Sports Insurance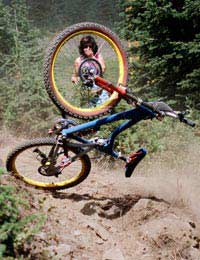 If you own expensive sports equipment like a home gym or golf clubs etc they may be covered by your household insurance or maybe you've taken out a separate policy to cover damage to them or their loss. But what about the most important item for anyone participating in sport-yourself! Have you taken out any insurance that will provide you with some income if you are injured while playing sport, or pay for medical costs that you might incur because of an injury? Some sports like rugby for instance.
Some people will have taken out a travel and sports policy if they have gone skiing,This can cover areas like lack of snow or injury on the piste, but did you knowthere are some specialist sports insurance companies who provide cover for many sports and hobbies that people participate in regularly.
Lets have a look at what these companies offer, and answer some of the questions that you might like to ask regarding sports insurance cover.
What's the Benefit of Sports Insurance?
The main benefit is piece of mind. Who's going to pay the bills if you're off work injured? If you injure someone else and they sue you how would you pay?Knowing you can take part in your particular sport and if anything did happen like an injury or incident you would be able to have some income coming in, or medical bills and costs could be met. Personal liability insurance is also available, as is insurance for sports clubs and associations.
I Don't Participate in a Dangerous Sport-How Would it Benefit me?
Sports insurance doesn't just benefit people who take part in dangerous or extreme sports. Insurance for normal sporting activities like football, cricket, rugby, badminton, tennis and a host of others is provided by most sports insurance companies. They also provide cover for referees, linesmen and officials in some sports, not only for a sporting injury, but for assault on your person.
I Take Part in Skydiving Does Sports Insurance Cover This?
Sports insurance is available for skydiving and other sports where there is an element of danger or risk. Insurance for sports like kart racing, mountain biking, hang gliding, and mountaineering are all available, although the cost of premiums will be higher than for less dangerous sports.
I Only Occasionally Participate in Sports Like Corporate Days Out Can I Get Cover?
Yes!-most sports insurance companies will provide one-off cover for a single day's sporting activity.
How Long Does The Cover Last?
Most of the insurance available will cover you for the duration of the competitions that you take part in. For team sports like football, cricket and netball, it normally covers a seasons play in all competition. For activities where you may not compete, but take part to keep fit like mountain biking, running, aerobics, scuba diving and even hill walking, insurance cover is usually available on a yearly basis.
What Exactly Does The Insurance Cover?
It varies from company to company, but the majority of the companies offer insurance policies that cover personal injury, third party liability, loss of earnings cover, permanent total disability. Most will pay a certain amount for nights spent in hospital, or for any dental treatment etc, you may need because of your injury.
I Take Part in Various Sports; Do I Need to Take Out Multiple Policies?
The majority of insurance companies will let you take out cover on one policy for multiple sports. They will base the cover on the highest group sport you participate in and you will automatically get cover in the lower groups.
Where do I Get Sports Insurance and How Much Will it Cost?
Some of the major insurance companies will provide cover for sporting activities, but there are companies who specialise in this type of insurance and they may provide more comprehensive cover and better premiums. You can find these specialist companies in the phone book, or try searching for them on the internet.
The cost varies between companies, as does the benefits provided. As with any other type of insurance you should shop around to get a deal that suits you for the lowest premium. Make sure you read the terms of the policy carefully to ensure you have cover for all the circumstances that might occur in your sport.
You might also like...