Getting Fit: What You Need to Know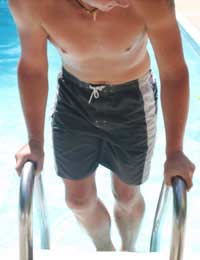 Anyone thinking of starting an exercise programme to get fit usually has a number of questions they'd like answered. What exercise or activity should I take up to get fit?How long do I need to train for? How do I get the best benefits from exercise?
Let's look at the options! Firstly you should find an activity that you are comfortable doing and one that you think you will enjoy. Beginners should think about exercising 2-3 times a week at the most to start with. To get any benefit from exercise you need to work the body harder than normal, by increasing your heart rate, this can be done by walking or jogging, by lifting weights, by swimming, or by many other forms of activity.
As your body becomes accustomed to exercise you need to increase the number of times you exercise, the intensity of the workout and the length of time of your session, to continue to improve your fitness levels. A combination of the three types of exercise here will give you a good overall workout.
Aerobic Exercise
Aerobic exercise mainly involves exercising the large muscle groups. Walking, aerobic dance, cycling and jogging are good examples of aerobic exercise.Rowing, swimming and other activities that combine both upper and lower body movements can help increase your aerobic capacity.
Strength Training
Strength training involves exercises where resistance is used to build or maintain muscle. Training with weights or dumbbells is a good way to build up strength, but exercises like sit-ups, abdominal crunches, and circuit training at the gym are equally effective.
Flexibility
Flexibility is an important part of any exercise regime. Increasing flexibility can reduce the risks of strains, twists, and other injuries, especially for beginners.Stretching is an important factor in increasing flexibility, it increases blood supply to joints and muscles, can increase physical performance, reduces soreness, reduces the risk of injury and reduces stress in muscles.
Try different forms of activity, you don't need to do only one. You can combine new activities with your favourite activities to help keep your enthusiasm and motivation high.
When starting to exercise it's not uncommon for you to make mistakes that cause your workout to be ineffective or even worse causing you injury. Some of the mistakes to look out for are:
Lack of Stretching
You should try and stretch for a few minutes before exercising, concentrating on the muscles that you will use during the activity. Muscles that are warmed up and flexible are less likely to be injured. You should also stretch as part of your warm down while your muscles are still warm and supple this helps reduce stiffness and aids recovery time.
Not Warming Up for Aerobic Training
Stretching is only part of a warm up. Your body needs to be gradually warmed up to meet the added demands of aerobic training. Gradually build up your heart rate by stretching, walking, jogging, or doing a lighter version of the activity you are about to undertake. When beginning your exercise session start off slowly and gradually increase the intensity of your workout.
Not Warming Down After a Workout
Just like you need to gradually warm up the body before exercise, it also needs to gradually cool down after exercise. Light jogging and stretching is a good cool down.
Overuse/Overtraining
Doing too much too soon is the most common way of picking up an injury.Don't train every day; you need to give your body time to recover. It's not a competition! Don't try to keep up with others who may have been exercising regularly for some time. Don't try lifting weights that are too heavy, know your limitations.
Not Drinking Enough
Fluid lost through exercise needs to be replaced. Unless you are doing more than two hours exercise daily, water will be adequate to replace any lost fluid. Try and drink Eight 8oz glasses of water a day while exercising. If you are doing more than two hours of exercise your water intake can be supplemented by energy drinks.
You might also like...