Bungee Jumping Safety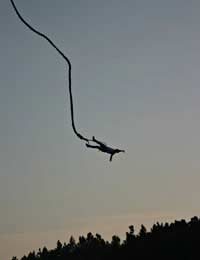 The following serves to help bungee jumpers minimise the fundamental risks involved in this activity.
Bungee jumping involves a person diving from a high place while secured from the take-off point with an elastic or bungee cord - it has become one of the better-known "extreme" sports.
In order to fully enjoy the "rush" that comes with such an activity, however, safety must always come first.
Physical Evaluation
Above all, individuals planning to bungee jump should meet the following criteria to limit health and other risks:
Weight-for-height within the target range (note: accurate measurements are recommended for proper fitting of equipment, including weight-bearing cords and body harnesses if used)
Absence or adequate control of medical conditions considered prohibitive; for the following or related conditions, it is crucial to seek professional counsel with a physician or nurse practitioner:

Abnormal blood pressure
Abnormal heart rate or rhythm
Back or leg disorders
Breathing disorders
Circulatory disorders
Head injuries
Possible pregnancy (bungee jumping during pregnancy is highly discouraged)
Recent surgery
Equipment
While the equipment involved in bungee jumping is quite basic, the importance of its proper use and working condition cannot be overstated.
Harnesses

Ankle harnesses securing the bungee to the body
Many people add a body harness (as used in rock climbing) to increase security

Tie-Off

A sturdy and stable structure from which to anchor the bungee cord, i.e. steel railings of a bridge or safety fence
Specific weight-bearing knots

Airbags

Some services - particularly those using a continuous location - place an airbag, webbing, or similar safety "sling" at the bottom of the jump space, to provide a safety space in the unlikely event of a fall.
Proper Dress
Though there is no universal uniform, some companies employ a dress code to ensure safety. The following are basic recommendations:
Casual outdoor clothing that does not interfere with proper harnessing
Absence of flying fabric or objects (including jewellery and unsecured glasses or even contact lenses) that could cause injury or obstruct vision
Weather
Many companies call off jumping during unfavourable weather, due to inherent dangers of poor visibility and uncontrollable wind patterns raising the risk of injury
Rain, snow, residual wetness, and ice cause slippery conditions that may impair reliable operation of the equipment.
Professional Support
The staff operating a jumping service are responsible for ensuring all equipment is in place and functional, and that proper safety procedures are followed. The following are questions worth asking:
Are the staff trained, experienced bungee jumping professionals?
Is the club/service affiliated with an accredited sports association that sets and regulates safety rules, i.e. the European Bungee Sports Association (EBSA)
What is their record for following safety codes?
What is their safety record (usually give in percent of accident-free jumps)?
Is the tie-off location secure?
Is the jump space clear of interfering objects, trees, etc.?
Is there a safety space? What sort?
What is their policy for checking and re-checking procedures?
What medical services (including first aid) are readily available on-site?
Are they prepared to execute a rescue, should the need arise?
Training
Whether you will only ever be a client or actually have an interest in becoming a professional, comprehensive training courses are a good idea for the avid bungee jumping enthusiast. They are generally comprised of three parts:
Rescue training
Bungee training
Apprenticeship period
Topics covered include inspection, testing, maintenance, and operation of harnessing and other freefall hardware procedures, slings and webbing, and retrieval vessels, as well as specifications of jump spaces and safety spaces.Any such courses should meet or exceed specifications set by governing bodies, and enable independent, safe operation by the time of completion.
You might also like...
Hi, i want to know about bungee jump training time and training cost and where about
Tashi
- 5-May-21 @ 7:14 PM
what happens if you bang your head during the jump
I think that the bungee jumping is a very good extreme sports which I have also experience of doing bungee jumping. THIS IS ONLY MY COMMENT
Pinky
- 18-Apr-18 @ 5:23 PM
Hi..m interested in taking the course for a professional bungee jumping trainer. I m ready to visit the recognised establishment in Europe inDecember. Please assist along with the duration and the cost for such training. Regards.
rahul
- 7-Oct-14 @ 1:14 PM
sir/madam i want to know about bungee jump training time and training cost and where about
tashi
- 8-Sep-14 @ 9:54 AM