Staying Safe While Power Kiting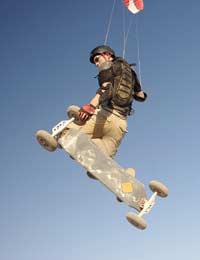 There are several variations of kite available and power kites provide an exhilarating rush to those who are involved in one or more forms of this popular activity. Nevertheless, it's important that you get instruction from a qualified trainer if you are starting out and that you understand the dangers of the sport.
People who fail to recognise their own limitations and those of their kite or who choose to fly in unsafe conditions are not only putting themselves at risk but could be putting others in danger too.
Excessively windy conditions can take even the most professional kiter off course and this can result in collisions with buildings, with objects in the water, with other stationary vertical objects and with power lines so it's crucial that you have the necessary skills to pilot a power kite and that you're familiar with all of the potential dangers before flying.
Read The Instructions
All approved power kites will come with their own specially designed instructions and safety manual. As power kites can be designed differently for the type of activity you are looking to pursue, it's important that you read through these instructions carefully as they'll be specific to your kite.
Gentle Winds First
Don't run before you can walk. By that, it means trying out your kite in light winds first. This will allow you to gain control over your kite and to see how it works. Once you've mastered it in light winds, you can always move on to gustier conditions later when you've established a level of confidence in your ability to handle the kite.
Pick a Suitable Spot To Fly
This may sound like common sense but ensure that there's sufficient space in the location where you're choosing to fly. That means, taking into account the size and power of your kite and considering the obstacles around you which also include people and animals as well as any buildings or inanimate objects.
Choose your take off and landing areas carefully and never fly kites near to overhead power cables or telephone lines nor near roads, railways, airports or tall trees and don't attempt to fly kites after dark.
Safety Equipment
Make sure you're wearing the appropriate safety equipment. A helmet is something you should seriously consider wearing in all forms of power kiting. Even if you're kiting over water, in strong windy conditions, you can still end up hitting the water hard so although you'll see some power kite users not wearing helmets over water, it's better to be safe than sorry. If you're using a power kite over land, then wearing a helmet is even more crucial.
Also make sure that your kite's safety release mechanism is in fully functioning order and that you know how to release yourself from the kite. This will allow you to detach yourself from the kite in an emergency, e.g. if you're about to hit a hard object or you end up being picked up by a gust of wind and in danger of being 'turned' into a paraglider pilot. Even if you're not in danger, it's always very useful to test your safety release system on the first occasion you fly with your kite just to make sure it is working correctly.
On The Water
If you're going to be using power kites around water, you'll also need to be a strong swimmer and feel confident about your ability to get back to shore when you may be exhausted and wearing a wetsuit. Obviously, receiving kite instruction first will help you with this. Make sure you don't kitesurf too far from the shore however, just in case you end up landing in the water miles away from the shoreline.
Other Safety Issues
Remember to observe any local regulations and rules specific to the terrain in which you'll be flying your kite and never underestimate the power of the wind. It's also important to recognise the limitations of both your own skills and the kite itself. Just because one type of kite can seemingly master rigorous conditions, this doesn't necessarily mean that all power kites have the same capabilities.
Caution and safety are the two key words when it comes to power kites. By getting proper training and by having a healthy respect for the conditions as well as understanding your own skills and the capabilities of your kite, you'll enjoy countless hours of pleasure without incident. Finally, always remember to check your kite and equipment for signs of wear and tear before every single flight you make.
You might also like...