Safe Exercise with Heart Problems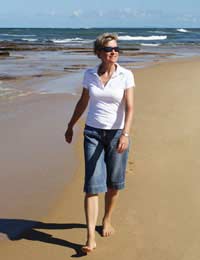 Exercise can be a valuable addition to the treatment plan of many heart conditions. Results from physical activity include improved circulation and reduction of risk factors - such as being overweight, abnormal blood fats, high blood pressure, and even stress - that are associated with first and recurring events such as heart attack or failure.
In order to reap these benefits, however, safety comes first. This means (1) discussing with your physician - at the beginning and on an ongoing basis - what your limitations might be and what you may safely undertake in an exercise plan, and (2) following his/her advice. Keep in mind that if your condition changes, so too will your capabilities.
Safety examinations will assess the strength and function of your heart muscle and how well blood and oxygen flow through it and the rest of your body. What your doctor selects will be based on your condition. For a few - such as blood pressure, heart rate, and oxygen consumption - it may be recommended you evaluate yourself between clinic visits.
Recommendations
For those already following a regular exercise regimen, restarting after a cardiac diagnosis, event, or procedure may be easier than if previously inactive. In either case, begin gradually, choosing activities you feel or have been advised suit your capabilities. Start with easier exercises for shorter periods, increasing in time and intensity toward your goal. Increases can be made every few sessions to few weeks if you continue to feel well (see Precautions below). Take care not to exceed the heart rate or oxygen use targets set by your physician or other healthcare specialist.
General
Include warm-up and cool down periods. Sudden changes in the burden placed on the heart can lead to 'events'.
Avoid holding your breath during exercise.
Get enough rest after exercise.
Schedule
Begin with 2-3 alternating days per week. Daily exercise is not critical, but a goal of 4-5 days per week is recommended
Begin with 5-10 minutes per session, 30-60 minutes per day is considered an adequate goal - if a full hour is desired, total time can be divided into two sessions.
Recommended exercise:
Continuous exercise - a minimum of 20 minutes non-stop is required for efficient oxygen use (at the beginning, rest periods will be necessary).
Specific types considered safe include the following:
Walking, jogging, or roller-blading on flat ground
Cross-country skiing
Bicycling - low-moderate intensity stationary or regular
Low-impact aerobics, calisthenics, or similar
Pilates, yoga, Feldenkreis, or similar
Beginning-intermediate level dance
Above-water swimming
Water aerobics
Push-ups
Light weight-lifting
Stretches with elastic devices
Rowing in calm water if in a boat, or with light weights if using a machine
Precautions
Depending on your condition and instructions from check-ups, most of the following are signs to stop exercising and consult your healthcare provider before resuming - though some may improve by reducing intensity or simply taking a break:
Unusually high or low blood pressure
Chest pain, especially if it radiates to your left arm or back
Coldness in limbs
Cold sweat
Dizziness
Unusual fatigue
Weight increase from fluid retention
Abnormal heart beat
Unusually high or low heart rate
Illness or fever (not caused by exercise, but an additional burden)
Lower leg pain
Numbness or tingling in an arm or leg
Excessive or prolonged shortness of breath
Skin color changes: blue, white, gray, or blotches
Anything that led you to seek medical attention in the first place
If exercise has been interrupted for more than a week, it is best to restart gradually, similarly to when you first started. Depending on how far you went before the break, progression may be faster.
It is often important to avoid exercise in challenging environments, including the following:
High altitude, where the oxygen level may be low
Uphill walking, jogging, or bicycling can lead to excess burden on the heart
Changing underwater depth, as in S.C.U.B.A.-diving, can lead to circulatory disruption
Intense heat increases risk of overheating and dehydration - during summer months, it is best to seek indoor activities and drink enough water or sports beverages (check with a dietitian for recommendations)
Pollution has more of an influence during exercise and can interfere with oxygen use, even when you are breathing normally - seek venues away from high-traffic, industrial, or smoky areas.
When undertaken safely, exercise can be as important as medication in dealing with a heart condition. Above all, it can improve your general well-being and mood during what may otherwise be a very difficult time.
You might also like...