Children and Sport - When to Begin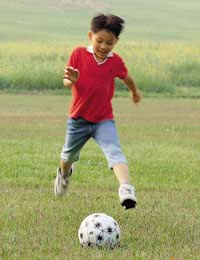 Over recent times medical studies have proved conclusively that, as a nation, our children need to do much more to improve their physical health and participating in sports is one of the best ways a child can improve their levels of physical fitness.
A child needs to be stimulated physically as well as mentally and, as a parent, you can incorporate throwing, hitting or kicking a ball as well as running and jumping from quite an early age and your child will often be motivated enough to want to move on from that and to participate in team sports. The question most parents often ask, however, is "when is the right age for my child to play organised sports?" Unfortunately, there is no definitive answer to this.
Each sport and each child are different. Kids develop emotionally and physically in very different ways and at different times and a 'talent' for the fundamental skills required by a given sport are not necessarily enough for a child to be 'ready' for competing in organised team events.
Questions to Ask Yourself
In determining whether or not your child is ready to compete in organised sport, you should ask yourself if he/she is mature enough to understand the rules and to abide by them and whether he/she understands the concept of a 'team' rather than individual goals (if it is a team sport). Also ask yourself, how they would handle coaching and discipline from someone other than yourself and how they'd react if other children were better at the sport then themselves. On top of all that, could you be sure your child would be able to face the demands of combining school and home work with regular training and practice sessions? If you feel that your child is most likely to fulfil all of these criteria, then organised team sports can be a lot of fun for children.
Benefits of Organised Sports for Kids
Organised sports offer children the opportunity to compete in a safe and healthy environment. With adult supervision and a set of guidelines and rules, there is also less chance of injury or accidents occurring. Sport also teaches children many transferable 'life skills' such as sportsmanship, fairness, grace, overcoming adversity, perseverance and a desire to succeed etc. so it can be very useful in their maturity.
Disadvantages
As well as being beneficial, there are also a few drawbacks to children participating in organised sports. For example, they might devote so much time to one particular sport that they never get the chance to experience other sports which they might enjoy even more.
Sometimes parents themseleve can cause problems. Whilst many parents promote sportsmanship, some are often guilty of 'over exuberance' and as spectators display some of the most outrageous, unsportsmanlike behaviour. Which of course does not set a good example to the children. Parents can also be extremely 'pushy' too and can become unaware of the effects of the demands that they place on their child to be 'the best' at their given sport.
Forcing a child to participate against their will is destined to result in failure, resentment and is more likely to have the opposite effect to what you hoped for in that your child will quit the sport entirely. It's also useful to remember that just because one child takes the step to organised sports before your own, this does not mean that your child will be any worse off when they come to give it a go as starting younger does not necessarily mean that a child will acquire skills any faster and progress more quickly. Quite often, a love of and a 'natural' ability for a sport aids progress far quicker than any coaching will achieve.
There is also often a tendency to group children and sport by age and, as we're only too aware, age can have little bearing on the physical strength of a child so it's possible that in a sport where physical strength is extremely important, your child might not match up to others in the same age bracket and might be put off competing and give up the sport as they feel physically out of their depth.
Things to Remember
It's important to consider both the physiological and psychological demands of a particular sport and to weigh up whether or not you feel your child will be able to cope with both aspects before you consider letting them participate in organised sports.
What is certain, however, is that sport of one kind or another is something which the majority of children naturally tend to enjoy and nurturing that in the most appropriate way will not only enable your child to learn new skills but will also help to keep them fit, active, healthy and happy, no matter what their level of sporting ability is.
You might also like...