Safe Exercise: Warming Up and Cooling Down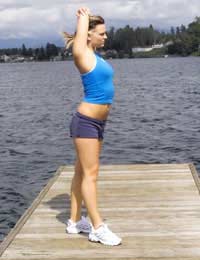 The universal value of easing into and out of physical activity - also known as warming up and cooling down - has been well-researched and often preached. When done properly and consistently, they maximize the benefits of exercise. In individuals who do not take the time and effort to include them in exercise sessions, their omission can lessen performance and lead to soreness, injury, and even heart trouble. But not everyone understands what they entail or specifically contribute.
Warming Up
Why
The warm-up prepares your body for exercise, providing a smooth transition from a tight and/or resting state. It increases your heart rate and blood flow in a progressive manner, and "loosens" the muscles, tendons, ligaments and joints you will be exerting. This can prevent injury and even discomfort - as it ensures the muscles are properly oxygenated and therefore "burn" less - and may also enhance performance and endurance.
When
Warming up is essential not only when starting a session, but also when restarting after an interruption or changing activities during. In exercises that target specific parts of the body, as in weight-lifting or multi-"athlon" activities, it is recommended to warm-up individual muscle groups prior to using each one.
What & How

Jog or walk in place or simply shake your limbs for a few minutes, or ride several dozen low-intensity, low-speed revolutions on a stationary bicycle
Perform very-low-intensity versions of the motions you will employ in the primary exercise, for at least 5-10 minutes.

Stretching for 5-10 minutes after the initial warm-up increases flexibility and range-of-motion and may provide additional protection against joint and muscle injury. Stretching before (when muscles are "cold") may cause injury. The following are general guidelines:

First, stretch the muscles you've used in the first part of the warm-up (for example, if you warmed-up on a bicycle, stretch your quadriceps, hamstrings, calves, and hips)
Next, stretch the muscles you will use for the primary activity.
Stretch slowly, to just short of the point at which discomfort would be felt
Gradually increase the number of repetitions
Gradually increase the duration of each stretch to a goal of 30 seconds each
Do not bounce, as this can damage your muscles

Cooling Down
Why
Muscle exertion causes the body's blood supply to concentrate where it is acutely needed. For it to be properly released back to the heart, continuous - but less intense - movement is required. If vigorous, prolonged exercise is stopped abruptly, blood pools where it has last been used most intensively, usually in the lower limbs. This results in reduced blood return to the heart, which in turn causes a drop in cardiac output and blood pressure. Light-headedness, irregular heartbeat, sudden shortness of breath, weakness, and cramps are the most common associated problems. However, cardiac arrest has also been known to occur in some cases, particularly after very long runs or high-intensity workout sessions, or in individuals with cardiovascular risk factors or otherwise weakened systems.
When
Tapering off muscle activity is considered the final part of any exercise session.
What & How
It is most often recommended to gradually slow the pace of the primary activity for at least 10 minutes or until it comfortably comes to a stop. If the type of exercise does not lend itself to a lower-intensity version, leisurely walking or low-impact aerobic-type activity is an adequate substitute.
A series of stretches after the initial cool-down may help loosen muscles that may have stiffened with fatigue. An accelerated version of the post-warm-up stretch may be enough.
You will know you have sufficiently cooled down not only when you feel less hot, but also when the following have occurred:
Breathing has returned to normal
Heart rate has returned to a maximum of 10-15 beats above resting
Perspiration has at least begun to dry
You can comfortably resume normal movement.
While it may seem at first that the additional time spent on warming up and cooling down is without reward, it is clear to the dedicated what a difference it can make. These activities are a vital component of your exercise sessions, and can make all the difference in how you feel during and in-between.
You might also like...