Staying Safe Whilst Playing Basketball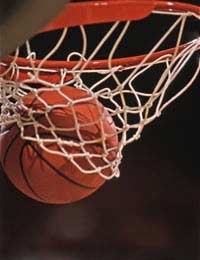 Like any fast-moving sport, basketball does have its risks in terms of injuries that can be obtained and, although not a ' full-blooded contact sport' in the strictest sense of the meaning, anyone who has played it or seen it being played knows that there is quite a considerable degree of physical contact made within the sport, some of it legal, some of it ungentlemanly and outside the rules.
Although injuries and accidents can and do occur, it is still important to consider all of the safety aspects associated with basketball and, where possible, to take all necessary safety precautions.
The Basketball Court
Basketball can be played both indoors and outside although it is more commonly associated professionally with being played within an indoor arena. As with any indoor sporting area, the surface of the court should be checked prior to any game for slip hazards such as sweat or drinks which may have spilled onto the court and need to be wiped up.
If playing outside, it's also important to check that there are no potholes or damage to the playing surface and that the court is free of any rubbish or debris. And, whether inside or outside, it's important that the baskets and boundary lines are not situated too close to fences, walls, seating areas (bleachers) or water fountains as collisions with any of these items when you're moving at speed can be highly dangerous and cause severe injuries. Also, it's important that the posts which support the baskets and any walls behind them are well padded.
Personal Safety
Basketball involves you often running and jumping at high speed and turning and twisting position constantly and, combined with slick surfaces underfoot, you should ensure that you're wearing the correct footwear. Wearing a mouth guard is essential if you want to avoid damage to your teeth and mouth as basketball does see its fair share of hands and arms flailing about.
You should also wear both elbow and knee pads which will not only protect those areas from bruising but, more commonly, they will protect them from floor burns which are even more common when you're playing in indoor facilities and can be very painful indeed.
Make sure that you've removed any jewellery such as neck chains, bracelets, rings and watches before you play and, if you wear glasses and cannot play without them and if you cannot use contact lenses, make sure that your glasses are made of shatterproof lenses and that they are securely taped or fixed to your head in some other way.
Other Ways of Staying Safe
It's important to adopt a safe method of landing after you've jumped as a lot of injures which occur in basketball come as a result of sprains, strains, knee injuries and pulled muscles as a result of landing awkwardly. You should think of your legs as springs as opposed to them being rigid when it comes to considering jumping and landing. That way, you're more likely to get into the 'zone' of being able to absorb the impact much better when you land.
Awareness of the other players around you too will also help you to land more safely. Warming up and warming down both before and after a game for 10 minutes or so will also help in preventing common injuries. Apart from sprains and strains which most basketball players will experience at some time or other, the most common problem basketball players encounter physically is in their knees which take much of the impact of the sport in terms of both jumping, landing, twisting and turning which is why many players will choose to wear a knee brace to give their knees added protection or if they have a slight knee injury.
Also, don't engage in the sometimes seen practice of 'slam-dunking' the ball into the basket as that has often been the cause of bringing down the basket and the post upon which it's based which could cause quite serious injuries if it collapses.
As it's such a fast paced, intense sport, in which the action switches from end to end constantly, basketball is a great way of keeping fit and providing you understand and follow all of the rules of the game and conduct yourself in the proper manner with respect to both the rules and to your opponents, it is a reasonably safe sport in which to participate although it's not completely injury risk free.
You might also like...