Stay Safe on the Golf Course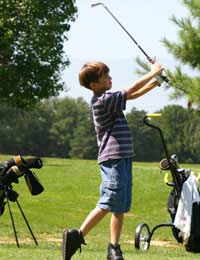 The verdant fairways and picture-postcard water features may make golf courses look like a safe haven from the hustle and bustle of modern life, but playing and spectating can be dangerous, especially if a few simple rules are not followed, or the advice of stewards is not taken onboard.
This is, after all, an environment in which small, potential lethal balls are flying through the air at many miles per hour. Thankfully instances of people being struck by one of them are rare, but it does happen, and the consequences can be potentially lethal.
Players should always be aware of the presence of others around them. So, for example, when preparing to tee off, ensure that the player or group of players ahead of you on that hole are beyond the reach of your drive. Should one appear unexpectedly after you have hit your shot – perhaps they were searching in the bushes for their own wayward, tee shot, immediately shout the recognised warning, 'Fore'. The procedure should apply to approach shots , too – don't think about using your iron until the preceding group have putted out, replaced the flag and vacated the green.
Those waiting on the tee for a player to take their shot should always stand well back from the swing of the club head. Standing to one side is not sufficient because should a ball slice off the face of the driver, it may fly off at an acute angle and cause injury to an individual.
Safe Distance
The ball is not the only object that takes to the air – on occasions players have been known to overcook their swing only to see the club fly out of their hands. Again, maintaining a safe distance between a player and yourself is essential. Players themselves should ensure that they carry a towel with them to regularly wipe moisture – either rainwater or perspiration - from the grip. Wearing a glove will also provide help prevent a club slipping from a player's hands.
One of the great attractions of golf is the great outdoors and the chance to enjoy some fresh air. However, this exposure to the elements has its downside should the weather turn nasty, so it's best to take an umbrella and rainjacket with you just in case – they'll easily fit into your bag. Should storm conditions threaten, get off the course and into the clubhouse as quickly as possible – do not be tempted to take shelter under a tree as there have been fatalities on courses that have resulted from players being struck by lightning
Warm-up Routine
Before setting off on a round, every player should undertake a warm-up routine that will prevent any potential damage to shoulders, back, hips and lower-body areas such as quadriceps, hamstrings and calves. Going out 'cold' is risking a pulled muscle or worse that will not only curtail that day's play but potentially put you out of action for a frustrating period of time. Such a warm-up routine will take no more than 10 minutes and can easily be completed in the locker-room or clubhouse grounds – so there's no excuse.
In terms of injury, keep an eye, too, on technique – your swing should be smooth, both upper- and lower-body working in sync to produce a clean connection with the ball. Attempting to 'force' a shot, perhaps in an effort to find a little extra power and corresponding length, may only result in a trip to the physio.
Every golfer should be physically and mentally ready for a round, so if you are booked in for an afternoon game, do not be tempted to include a few alcoholic drinks in your lunchtime meal in the clubhouse. Your game will only suffer, and you'll be less alert to your surroundings and the presence of others after a glass or two of beer or wine - so save any celebratory drinks for the '19th hole'.
You might also like...