Different Types Of Football Pitches and Surfacing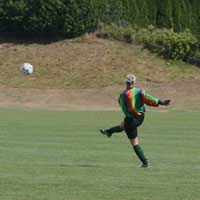 Football pitches and the technology surrounding them has come a long way in just a single generation. The more misty eyed followers of football are always ready to regale the reluctant listener with tales of bygone games on the street kicking a tin can round. Some of the greatest players, they will announce, learned their skills on this most unforgiving of surfaces such as tarmac or concrete, when coming down to earth with a bump was the best reason in the world to learn the art of avoiding a clumsy tackle.
The disappearance of football from the streets is more to do with the volume of modern-day traffic than any feeling of alienation today's younger generation may feel towards this most commercialised of sports. However it can't be a bad thing that concrete is no longer the most accessible surface because it is less forgiving than boards, grass or a synthetic pitch such as AstroTurf.
Welfare of Opponents
Purpose-built concrete football pitches can still be found around the United Kingdom, usually of a size designed for five-a-side, but even that less physical form of the game does include the occasional fall resulting from an overenthusiastic challenge, and the results can be painful, from a bruised hip or shoulder to a fracture of the arm or wrist. If playing on concrete football pitches it is best to advise players to remain on both feet when tackling in order to minimise the risk of knocking an opponent off balance. After all, by definition a lot of the fun of five-a-side is lost if one or more players is forced to retire through injury.
Both boards and synthetic football pitches are more forgiving, but again flying into a tackle is best avoided, in part because they can leave the tackler nursing a nasty friction burn from the surface. Coaches need to make their players aware that they must have respect for both their own bodies and the welfare of their opponents. In the case of a synthetic pitch, players should wear shoes that provide them with a good grip so that accidental slips and slides are avoided.
Level of cushioning
Good grip will also minimise the chances of accidents on grass football pitches, particularly when rain has left the surface greasy, so, again, coaches need to check their players' studs before the game. A greater level of rainfall may result in the ground cutting up or even patches of mud, particularly in the 18-yard boxes. This can lead to some debatable slide tackles and swings of the boot that even if not malicious in terms of intent can still leave the recipient nursing a painful injury. At the other end of the scale, should a dry spell leave the surface rock hard, the same precautions that should be taken on concrete need to be applied – a layer of grass can only give a certain level of cushioning.
Grass remains the safest surface on which to play but all of the above scenarios require commonsense to be applied by both players and coaches. Football is a contact sport and should remain so. Injuries are an inevitable consequence of that contact but taking account of the surface and controlling the behaviour of players and the intensity of their competitiveness can go a long way to ensuring that bumps and bruises are kept to a minimum.
You might also like...
Obviously soccer balls bounce differently on different football surfaces requiring tact on the part of the player in controlling the ball especially when playing away match on a strange pitch. Can someone tell me the different method of ball control on a Dry Hard patchy grass surface, a wet grass surface, wet muddy and patchy grass surface, a dry synthetic surface, and a wet synthetic surfaces.
Ify
- 29-Mar-11 @ 8:31 PM