Common Football Injuries And Treatment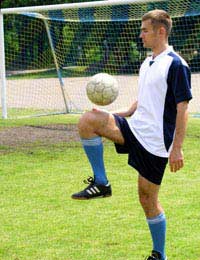 Football is the world's most popular sport with over 240 million registered players worldwide and many millions more who play just for fun. Footballers suffer more injuries than those involved in other sports like rugby, cricket, hockey, cycling and even boxing, however most football injuries are not very serious.
Research shows that most football injuries are caused by trauma, either having collided with opponents or from landing awkwardly after jumping for the ball. Nearly one third of all football injuries develop over a period of time, due to overuse or playing with slight injuries that develop into something more serious. It's also been shown that older players are more liable to get injured, and women players suffer more injuries than males.
Most football injuries affect areas like the pelvis and groin, hip, thigh, calf, knee, foot and ankle. There are some very common injuries and by understanding how they are caused you may be able to avoid getting injured.
Hamstring Strain
When sprinting during a game the hamstring muscle can be stretched beyond its limit and the muscle tissue can be torn. A tear in a muscle is described as a strain and the level of severity is categorised as a first, second or third degree strain.
How Can It Be Avoided?
Warm up before training or matches.
A good warm up should last a minimum of 20 minutes.
Start gently with a couple of light stretching exercises and build up gradually until you finish at full pace activity.
If you are prone to this type of injury try wearing Warm Pants, which look a bit like cycling shorts, these help protect the hamstring by giving added warmth in the hamstring area.
What Should You Do If You Get A Hamstring Injury?
Any muscle injury should immediately be treated using the RICE method-rest, ice, compression and elevation. It's important that you never apply ice directly on the skin as this can cause an ice burn. Use an ice bag if possible, or wrap the ice in a cloth or towel if you don't have one.
Your injury should be seen by a doctor, or a chartered physiotherapist.
Depending on the severity of the hamstring injury, the leg must be rested from any sporting activity for between a couple of weeks or in a severe case up to three months. Your doctor will advise you on how long you need to rest the injury.
Sprained Ankle
The sprained ankle is one of the most common injuries in football. It's usually caused by twisting or turning the ankle inwards. This causes soft tissue damage mainly to the ligaments, the damage creates bleeding within the tissue and leads to swelling of the joint , bruising and pain in and around the ankle.
How To Prevent It
Taping the ankle before playing can give it added support and reduce the risk of a sprain.
An ankle brace is an alternative to taping, especially if the sprain is a recurring problem.
Wobble board training is specifically designed to increase the flexibility in the ankle joint and is used to increase your balance, reducing the probability of getting a strain.
How Should You Care For A Sprained Ankle?
Especially in the first couple of days after a sprained ankle injury it needs to be protected. A support/bandage should be applied to help with compression of the injury.
Ice, rest and elevation should also be applied. Use an ice bag on the injury.
Torn Cartilage
Knee cartilage tears are one of the most common football injuries. Although termed a cartilage injury most are injuries to the Meniscus, which are two pieces of fibro cartilage that lie within the knee joint. These can get nipped or jammed between the bone of the knee and thigh causing a tear. This type of injury usually happens when the weight of the player is mainly on one leg and he is turning or twisting and the knee is semi bent. Cartilage tears normally result in swelling and pain in the knee. If it is not severe a period of rest usually results in the injury settling down. A severe tear can result in the knee locking, or giving way when bearing weight.
Prevention
Unfortunately there is no real prevention for this injury. Having strong hamstrings and quadriceps may reduce the likelihood of the injury.
What To Do If You Have A Knee Cartilage Injury
Locking of the knee or giving way of the joint needs to be assessed by a doctor.
Small tears can be cured by rest or physiotherapy.
Severe tears may require surgery. This is normally followed by a month or two of physiotherapy.
You might also like...