Recovering From a Sports Injury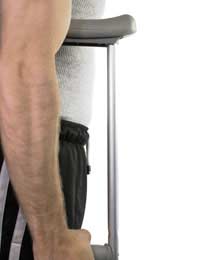 No matter what sport you participate in, there will come a time when you pick up an injury. Knowing how to treat the injury, ensuring that the right therapy is employed and having the injury properly assessed, will all help the recovery process become a lot quicker.
The mistake most participants in sport make when they get an injury is to try and play through it. Sure there are times when it's only a slight knock, or bruising, or cuts and grazes and continuing will do you no harm, but there are other times when it could be a bit more serious and you need to be able to recognise them. What may seem like a slight muscle twinge can sometimes develop into something a bit nastier if you decide to play on with the injury. As the body gets tired and fatigue sets in more strain is placed on the muscles and the slight pain you felt earlier could develop into a tear or strain.
If you do get an injury how do you make sure that you can get back participating in your sport as soon as possible, without the injury recurring, or you having a setback in training?
Evaluation
The injury and its seriousness must be diagnosed properly. First aid, treatment and diagnosis should all be made immediately after the injury occurs. Once the correct diagnosis is made, treatments/therapies can be decided and first aid given. Some injuries like cuts, abrasions can be treated instantly and the competitor can return to play immediately. Other injuries may see an athlete sidelined for quite some time, and a plan of rehabilitation is needed to make sure a safe return from injury can be made in the quickest time possible.
Healing
There are two stages to the healing process, the physical and the psychological. Even if your physical injuries may have healed, you have to make sure you are mentally ready to start playing again. Injuries can leave psychological scars, and many people are apprehensive about putting themselves back into the same situation where the injury originally occurred, mental toughness and determination are needed to conquer these fears. Mentally after receiving an injury you have to accept it, cope with it and then set yourself small achievable targets so you can see a progression in your recovery. Achieving these targets is a great way to boost your confidence and aid recovery. If it is a long term injury, family and friends can give great support in encouraging and helping in your return to fitness.
The healing process can be speeded up by treating the injury properly. For tears and strains rest is important, as well as ice treatment and compression, to help in the reduction of swelling. Elevation of the limb can help blood flow and speed up your recovery.
Physically the injury may cause pain or discomfort, or the temporary loss of control of a limb. The injured area may need to be immobilised to aid healing and this can cause frustration once the initial pain has gone, as you feel you want to be able to train. Depending on your injury it may be possible to continue training and maintain a certain level of fitness.
If you have a fracture, a lightweight or temporary cast may be available to you. These can be worn for lower limb injuries while non weight bearing activities can be resumed. Swimming and other pool activities are an excellent way to help with your rehabilitation. Cycling is also a great way to maintain cardiovascular fitness.
Muscular strength and power must also be maintained during an injury spell. Some gym work may be appropriate depending on your injury.
Returning to your Sport
Before making a return to your sport from injury, you should at least be at a minimum level of fitness and confidence to perform. You must be sure that you can compete without the potential of causing further injury, or damage to the injured area.
The area of the injury can be protected by padding, a brace, or any other modification you feel comfortable with. The best advice you can follow is that of the medical profession who assessed your injury. Follow their guidelines and ask questions at different stages of your injury about what you can and can't do regarding exercise.
On a personal level the best thing you can do for yourself to aid your recovery is take your time, don't rush things and be patient.
You might also like...