Sports Injuries And How To Avoid Them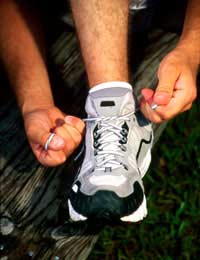 Sports injuries can be very debilitating. Below are tips to protecting your health during physical activity.
Despite being widely beneficial to us, sports can lead to a host of injuries and illnesses if proper care is not taken. The most common sports injuries are sprains, strains, and dehydration, while the more rare - and also more serious - include contusions, fractures, and heart irregularities. Prevention and early management are key to limiting the occurrence of sports injuries and controlling their outcomes.
Medical Sense
For those who are already in good health, getting involved in sports may be problem-free with the right initial guidance. For those with a medical history, or for whom physical fitness may be new, it is generally recommended to get a physical evaluation and recommendations from a healthcare provider before beginning.
Preparation
Depending on your starting level of fitness, it may be wise to seek sound advice and "get in shape" before moving on to your target sport. Further, it is important to remain in good condition on a regular basis - this requires special attention if participation is sporadic.
Muscular strength and flexibility guard against sprains and fractures and protect joints from being overstressed.
Proper technique and body mechanics guide safe movement
For high-risk conditions or high-intensity sports, plan to monitor heart rate and even fluid losses during the activity
Personal Equipment
Nearly all sports have recommended dress codes, some involving safety equipment to prevent illness and injury. Recommendations can be found through texts, online resources, sports organizations, and professionals.
Proper dress may range from the usual "sturdy, loose-fitting clothing made of breathable fabric" to heat-preserving wetsuits to running shoes with a set list of essential features. All depends on the type of sport and the environmental conditions in which it is played.
Protective equipment for contact sports - or those with a high risk of falling - is also specific to the activity. It may include guards or pads for specific body areas, and may need to be professionally fitted. It should be worn at all times during participation, including practice and matches to reduce the likelihood of sports injuries occurring.
Nutrition & Hydration
Proper diet is the basis for any fitness program, and the higher the intensity, the more influence it has. This means nutritional intake that meets the needs of your basic bodily functions and increased activity.
Hydration is as critical as diet, but also prey to losses through sweat. Such losses include not only water, but also some key nutrients - and if uncompensated, can lead to cramping and even disturbances in heart function. Most sports drinks serve to replace both.
Warm-Up & Cool-Down
It is recommended to take approximately 5-10 minutes each for warm-up and cool-down exercises before and after each sports session. Times may increase based on weather.
Warming up prepares muscles and joints for exercise, and is key to preventing soreness and injury. Longer exercises advised in colder temperatures.
Cooling down ensures heart rate, blood flow, and core body temperature are restored to normal after activity. Longer cool-down is advised in heat.
Safe Play
Rules in sports are set with safety in mind, and their importance increases with the level of intensity. When danger and surprise are limited, so too are sports injuries.
Avoid the Axis of "Overdoing"
Overuse
Wear-and-tear injury is very common when there is too much focus on a particular set of joints or muscles. Cross-training - participating in a variety of activities - may prevent this.
Overtraining
Not knowing when to quit - or doing too much before the body is prepared - leads to exhaustion. Rest between workouts is critical to ensuring a full recovery from each session before proceeding to the next.
Overexertion
No matter what your fitness level, it is important to not exceed your capabilities or training. The following tips may help avoid this without sacrificing advancement:
Initiate your training slowly
Limit increases in time, speed, or resistance to about 10-20% per week, advancing according to your comfort, skill, and freedom from sports injuries
Pay attention to common warning signs, such as pain in muscles or joints, losing ones breath, overheating, and exceeding maximum heart rate. When any of these occur, stop or slow down - or seek medical attention if needed.
Check, Please!
Many sports injuries can be handled without medical attention, but some require it to avoid worsening or permanent damage. The following signs are of particular concern:
Severe, radiating, or persistent pain
Significant swelling
Inability to move the injured part
Numbness, tingling, or weakness
Lack of healing
Infection
Post-Injury
Proper handling of the return to activity is crucial to avoiding repeat injury.
Do not resume the activity before complete resolution
Restart slowly and advance only as the previously injured part allows
Make adjustments in activity according to the cause
Pay close attention to known signs of trouble
You might also like...