Staying Fit While Injured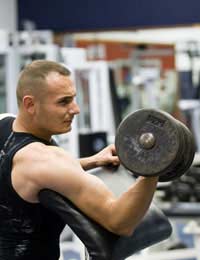 How to keep fit while being injured is a problem most people who participate in sport find themselves having at some time or other. Not being able to participate in your chosen sport doesn't mean you can't train or keep fit. It's important that you keep some level of fitness so when your recovery period is complete you are ready to return to action as soon as possible.
No matter what type of injury you have there are normally alternative exercises that can be done while still resting the injured area. So let's take a look at some of the body parts that may be affected by injury and see what alternative exercises you can still do to keep fit.
Ankle Injuries
Twisted and sprained ankles are common for most people who participate in sports. This can mean being out of action for a short time, but you can still keep fit by doing other activities like rowing, or any other alternative that concentrates on the upper body and won't put stress on the ankle.
Upper body circuit training with weights is another alternative. Dumbbell curls or lifts, bicep curls, lateral lifts and a few other exercises can all be done from a seated position without putting any stress on the ankle.
Pulled Muscles (Lower Limbs)
It's sometimes tempting to continue trying to play through a pulled muscle, because once the muscle has warmed up the pain decreases and the injury doesn't feel as bad.The muscle really does need to be rested however and you should follow the RICE method of, rest, ice, compression, elevation.
You can still do some exercises without putting the muscle under any great strain.Try throwing a medicine ball with a partner. Throwing it back and forth for 20-30 minutes will give your abs and shoulder muscles a great workout. Some gyms have upper extremity bikes that allow the user to "pedal" with the arms while seated, these can be effective in giving you an alternative workout.
Tennis Elbow/Pulled Muscles (Upper Limbs)
Most players of racquet sports are familiar with tennis elbow and it can be quite a painful injury. If you get tennis elbow you should stop playing altogether and let it heal. Muscle strains and pulls in the arms aren't as common but they do happen to cricketers, goalkeepers, and in sports where a throwing action is applied, or in sports like weightlifting and boxing.
The one thing you can still do if you have injured an upper limb is run, and running and jogging are good ways of staying fit. Interval training with plenty of short bursts as well as side to side movements to stay flexible is ideal.
Knee Injuries
The knee is a major weight bearing joint and so you may be restricted in the alternative activities that are available to you. You should talk to your doctor, trainer, or physiotherapist to see if cycling will aggravate the injury, if not this is a good replacement activity. Swimming using a pull buoy to give your legs support and to stop yourself from kicking is another alternative you might think about trying.
Back Injuries
Knowing exactly what back injury you have is vitally important before you think about continuing with any alternative exercise. Back injuries that are muscle related have a quicker recovery time that other back injuries and walking if the pain will allow it, is a great way of keeping up cardiovascular fitness. You should discuss with your doctor any other forms of exercise he may think appropriate for the type of back injury you have.
Shoulder Injury
Damaging your shoulder can hinder your participation in many recreational sports. With arm injuries you want to avoid movements like throwing, serving at tennis, or even swimming. With particularly sore shoulder injuries even the arm-swinging motion needed for running can be too painful. You should avoid any overhead movements and any other arm positions that cause discomfort.
Try lower body weight training, running if possible, cycling, and stair climbing, or step aerobics.
So even if you are injured there's no need for you to turn into a couch potato. Look at the alternatives and get out there and keep fit.
You might also like...