Safety of Cheerleaders is a Serious Issue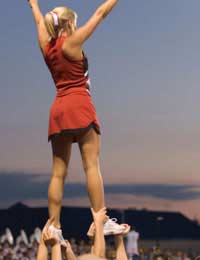 Cheerleaders are synonymous with American sport. They provide a link between team and supporters and, as such, are an important part of the pageant. And there isn't a pageant more colourful that the biggest date in the sporting calendar Stateside – the Super Bowl.
However, fans expecting to see fine examples of well drilled touchline choreography would have been disappointed by the 2011 event in Dallas, because neither of the two teams competing for the title – the Green Bay Packers and the Pittsburgh Steelers – have official cheerleaders. They are not the only NFL teams to have such a policy, either.
Whatever the individual teams' reasons for such a policy, one thing's for sure –it will free up more room in the treatment room. Why? Well, it may come as a surprise to many observers, but cheerleading is a lot more than a few high kicks and pom-poms – it's a tightly grilled, physically demanding discipline. Exponents have to possess a high level of fitness and stamina in order to execute the drills that rely on split-second timing for their success – we're talking human pyramids, toe touches, front hurdles and eagle spreads. Sounds a little like acrobatics, right? That's because it is, putting great demands on both upper and lower body as a consequence.
Serious Trauma
As a result, it is not uncommon for cheerleaders to suffer injuries that one would find in a great many other sports – trauma to knees, abductors, calves and shoulders. Worryingly, these are not the only affected areas, with medical researchers also identifying serious trauma to both head and neck - to the extent that they have flagged up cheerleading as being one of the most dangerous sports that female athletes participate in.
Worrying Statistics
Those governing the sport in the United States have been quick to react to these worrying statistics, setting out comprehensive guidelines governing both training and routines that are the result of input from coaches and doctors. The governing body in question, the American Association of Cheerleading Coaches and Administrators (AACCA), has addressed every aspect of athlete development, from coaching qualifications, warm-up drills, stunt choreography to prohibited moves. There is also a separate list of rules drawn up specifically to cover performance on indoor courts.
These safety checks are incorporated into the dedicated rule books covering three specific levels of cheerleading: School, College and All Star. For the latter category, the AACCA defers to the recommendations of the US All Star Federation (USASF), which, for example, prohibit the wearing of any type of jewellery during a performance, and limit the props that are permissible, such as megaphones and flags. Not surprisingly, the rules also stipulate that an emergency response plan must be in place in order that should injury occur, it can be quickly and effectively dealt with.
The steps taken by the cheerleading authorities are designed to protect participants as much as possible. They should not be taken as a red flag, indicating that the sport is inherently dangerous – rather they are a reminder of the importance of skilled coaching and the correct preparation towards executing a professional performance.
You might also like...