Track Events: Middle & Long Distance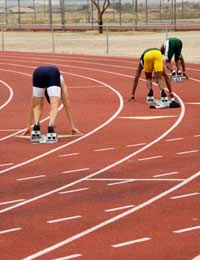 Middle distance events are longer than sprints but not endurance, or long distance events like 5000-10000m. The usual competitive middle-distance races are the 800m, 1500m. Other distances like the 1 mile, 2000m, and 3000m are middle distances races, but they are not normally included as championship events.
Training for the 800m Race
800m athlete's need to have more endurance than sprinters, but they do not have to do as much steady running as longer distance athlete's.
Training should consist more of sprints and running at race speed than solely endurance training. The 800m is now considered an extended sprint with athlete's needing to have a good basic 400m speed; yet aerobic training (endurance) also needs to be a large part of the training programme without compromising the muscle power that generates the basic speed.
The 800m needs special training at race speed. Being able to relax and use little energy while sustaining race pace is important for athletes running this distance.The athlete needs to work on pure speed and strength on a regular basis. The 800m is an event where the maximum acceleration-minimum deceleration approach to racing is required. This is due to the speed of 400-800m races where oxygen debt and fatigue generate exhaustion rapidly.
The runner has to try to cover as much of the race as possible at the greatest speed which will allow them to finish in a minimum time, before fatigue becomes unbearable. The athlete should be trying to achieve an 800m run where there is no more than a 5 second differential between the first 400m and the second 400m.
Running the 1500m Race
Tactically and mentally this is the most demanding middle-distance race. 1500m races can be quite physical at times and being able to hold your track position during a race and carrying out your pre-race tactics takes mental as well as physical strength.
A training programme combining endurance training and repeat sprint sets must be developed for the individual athlete. Most 1500m races these days are run at a fast even pace, so basic speed is important as is strength and stamina to maintain the pace throughout the race. Running up short hills at sprint pace for speed and longer hills at slower speed for endurance are good ideas to introduce into your training programmes.
Other Tips for Middle Distance Runners
Some basic tips and things to remember if you're competing in middle-distance events:
Warm up properly.
If you're training in cold conditions-wear tights to keep warmth in your legs.
The athlete shouldn't lean forward when running.
Simulate race conditions-Run in a group when training and get used to bumping and jostling.
Practice cutting across into the first lane.
Try and save around 40% of your energy for the last quarter of the race.
Don't take the lead unless you are going to keep it.
Keep within striking distance of the leader throughout the race.
Respond to any moves that other runners may make during a race.
Don't get boxed in during a race-by the time you manage to get out the leaders could be too far in front for you to catch them.
Run your own race. Have a plan and try to stick to it.
Use this advice to train safely and run middle and long distance races successfully.
You might also like...