The Safety and Benefits of Pilates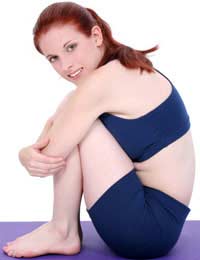 Pilates is a low impact form of exercise that develops body awareness, changes and improves posture and body alignment habits and also increases flexibility.It also integrates the mind and body. The intense concentration needed to carry out the highly controlled movements is useful in focussing the mind.
Pilates classes and exercises are beneficial for increasing general fitness, can be used by the elderly and anyone from the age of 12 years upwards, is helpful in reducing injuries, improves coordination, relieves stress and improves posture. With all these benefits it's no wonder that Pilates has become popular over recent years with everyone from celebrities to grandmothers taking up Pilates exercises
Pilates involves many twists and postures, so before starting Pilates, as with any other type of exercise you should consult with your doctor to find out if it is suitable for you especially if you have any specific health issues.
There are over 500 different Pilates exercises, the main concept of the exercises being to strengthen the central muscle groups around the abdomen, back and pelvis. It also promotes respiratory circulation, improves bone density and muscle tone. Unlike other exercises, Pilates also improves your balance, posture and breathing control. It achieves this because the exercises work to simultaneously develop your strength and muscular flexibility. A Pilates exercise routine will leave you feeling invigorated and not tired like many other forms of exercise.
Taking Part in Pilates
So what do you need to do to get the greatest benefits from Pilates classes without risking injury?
Firstly make sure your instructor is properly qualified. Don't be afraid to ask to see their qualifications. An unqualified instructor could inflict permanent damage to your back and other areas of the body by using incorrect postures, or exercises.
There are a lot of instructional DVD's and Videos available, so you can practice Pilates at home. It's advisable that you go to classes first to learn the correct positions and postures, and use them in conjunction with your exercise classes rather than try to do the exercises at home and cause injury to yourself.
If you have a back problem, find out exactly what it is before enrolling in a Pilates class. While Pilates can be effective in alleviating back problems it is wise to know what kind of exercises you can do without causing additional damage to your back.
Don't overestimate your capabilities. Make sure you enrol for a class that is at a suitable level for your current state of fitness.
Make your teacher aware of any health problems you may have. A good teacher will ask you this as a matter of course.
If any exercise is causing you pain or discomfort stop and tell your teacher. They will usually find a modified version of the position that is suitable for you.
Don't overdo it! Take it easy and gradually work your way through the exercises. Don't try anything that is likely to cause an injury.
Don't exercise every day. For beginners, once a week is plenty.
Tell your teacher if you are pregnant. Some of the abdominal twists and exercises are unsuitable for pregnant women.
Check how many people are in your class before signing up. A high level of personal supervision and tuition is required for you to get the most from your exercises so less is better in this case. A teacher with a class of 20 or more would not be able to give the proper individual tuition that is needed to ensure your proper wellbeing.
So develop your body awareness, change and improve your posture and body alignment habits, increases your flexibility and integrate your mind and body!
You might also like...