Paintballing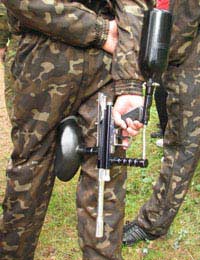 Paintballing is a fun activity which can be taken up by all members of the family from juniors from around the age of 11 to older people. As well as being good exercise, it's an activity which also tests your ability to work well as a team which is why it's an extremely popular activity for companies who often use it as a corporate exercise to build good team working skills as well as giving staff a fun day out. It's also an increasingly popular alternative for hen and stag nights and for birthday celebrations as well as their being organised paintball leagues.
What Does It Involve?
Basically, it's a kind of 'war' game as players form into teams armed with marker guns which fire paintballs which contain biodegradable capsules of harmless coloured dye. The general premise is that if you are hit by an opposing team's paintball fired at you, which is denoted by the ink mark on your clothing or gear, then you are deemed 'dead' and out of the game. The dye used does not ruin your clothing although because you could be playing the activity in woodland or within similar terrain, it's better if you wear old clothing which you don't mind getting a bit muddy or dirty. Some venues will provide military type fatigues for you to wear.
Doesn't It Hurt?
There are strict safety regulations in place which mean that any gun which fires paintballs must fire within a strict velocity limit so it's highly unlikely that you'll suffer any injury from being 'shot' at. However, you will be required to wear either a pair of safety goggles or a mask as your head, face, eyes and ears are more exposed than the rest of your body which is covered by clothing and, although in some variations of the sport, shots can be aimed at the head, in others, that is strictly prohibited and any shot aimed at a person's head area will result in immediate disqualification.
What Are The Rules?
The rules of paintball can differ as there are many variations of the sport. In essence, the aim is to either eliminate all of the other members of the opposing team or to achieve some other kind of objective. The main different types of competition are:
Elimination
– In which the aim is to 'kill' all the other members of the opposing team which results when each one of them has been fired at and has been deemed by the referee to have been marked with dye as the result of a direct hit. Because paintballs can bounce off things like a tree and splatter causing paint to land on a player, this is not deemed to be a direct hit but a referee, who will usually be an employee of the paintball venue you attend, will fully explain the rules to you including what constitutes a direct hit as well as telling you the 'dos and don'ts' of the game.
Capture the Flag
– A flag is placed at the opponent's flag station and one at your own team's flag station or, perhaps, one flag in the middle of a field and the objective is to capture that and to either return it to your own station or pin it to the 'enemy's' flag station or to simply capture the single flag and return it to yours or the enemy's station
Woodsball
– This involves more 'military' style tactics and the aim is to capture and hold one or more than one of the opposing teams' bases. The game is won by the team who is able to capture and defend the opposing team's base for the net longest amount of time. There are also many other variations of the game.
How Do I Get Started?
There is most likely a professionally licensed paintball venue, usually located in woodland or a forest not far from where you live which you should be able to find by looking on the internet for locations within your town, city or county. There are some indoor venues as well and if you've ever been to an indoor laser quest venue, it runs on similar principles.
Although it's an incredibly safe sport, it has the potential to cause injury which is why it's important that you only use a professional venue which abides by stringent guidelines when it comes to health and safety procedures.
It's fun for all the family and for companies and any kind of group get-together, being not just good exercise, but a form of sporting activity where tactics, working together as a team and using your intelligence and planning a strategy are as equally important as being able to shoot on target.
You might also like...