Safe Competitive Running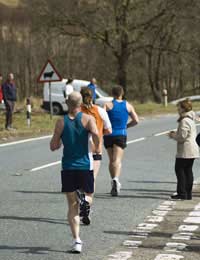 The following serves as a guide to safeguarding your health while training for or participating in competitive running events.
In competitive running, races are generally categorized as sprints or distance-running, according to length and speed. Each carries with it its own set of conditions and training methods - however, many basic requirements and safety measures remain the same.
First & Foremost
It is highly recommended that you check with your healthcare provider as to your overall physical condition before beginning a long-term, high-intensity activity such as competitive running - particularly if you have a medical history.
Road Rules
Whether training or racing, sprinting or going the distance, the following are general tips for all runners to ensure comfort, enhance endurance, and prevent unnecessary soreness and injury.
Before the Run: Preparation
Dressing for success. Lightweight clothing from breathable fabrics allow perspiration to evaporate, a natural mechanism to prevent overheating during high-intensity activity. Quality running shoes are essential. Features to look for include not only general fit, but also cushioning ("shock absorbance"), flexibility, stability, and arch support; common injuries due to poor footwear include blisters, shinsplints, sprains, and even fractures
Even before initiating the running portion of a competitive program, it is recommended to strengthen the muscles that will be used the most, either through weight-training, floor exercises, or bicycling.
Prior to each running session, warming up and stretching should be performed to ensure safe range-of-motion.
Proper foot placement on the running surface and position of arms, shoulders, and knees while in motion are key areas to consider in preventing strain.
Breathe regularly throughout the running session to ensure proper oxygen flow to your muscles and organs, and prevent waste-product build-up (felt as a burning sensation).
During: Listen to Your Body
Initiate your running program slowly and advance according to your capabilities and freedom from injury.
Keep track of your heart rate, taking care never to exceed it.
If you feel you are running out of breath, reduce the intensity.
Pain or snapping sounds in your joints during a run are a signal to slow down.
After: Recovery is Key
Cooling down after each session ensures your heart rate, bloodflow, and core body temperature are restored to normal after high-intensity activity.
Rest after runs, and be sure you are fully recovered from each session before proceeding to your next.
Nutrition
The aim of nutrition remains the same regardless of the sport - to provide adequate fuel to maintain strength, energy, and organ function.
Needs are increased with intensity and duration of activity. It is vital to keep up every step of the way to avoid fatigue and illness.
In addition to food-based diet, many competitors look to supplements for an extra "edge" - however, false advertising is common here, and it is best to seek advice from a licensed healthcare professional.
Fluid & Electrolyte Balance
Hydration is sometimes believed to be an even more critical issue than diet in sport, because consequences of depletion can be immediately felt.
A sport such as competitive running may double your normal fluid requirement, depending on intensity, duration, and surrounding temperatures. Dehydration increases vulnerability to heat, and can cause collapse and even organ failure.
During stressful conditions, thirst is sometimes a late indicator of underhydration. During moderate-to-heavy perspiration, fluids should be replaced every few miles or every hour, or according to how much you sweat (something that can be calculated).
Major fluid losses include not only water, but also electrolytes such as sodium, potassium, magnesium, and calcium, which require replacement as well. Uncompensated losses - or even "over-drinking" plain water - can lead to cramping and disturbances in heart function.
Most sports drinks are designed around the principle of restoring both fluid and electrolyte balance during exertion.
Prevention
In addition to the above measures, the following can prevent excessive fatigue, pain, and injury, and even illness:
Pollution has more of an influence during intense exercise. Try to seek venues away from high-traffic, industrial, or smoky areas.
Personal safety should always be a consideration when running outdoors. Key points here include traffic, aggressive animals, personal crime, terrain, or - particularly at night - visibility
Avoid running when you are acutely ill, particularly if the illness causes excessive fluid losses or involves infection.
If you experience any of the following during or immediately following a run, stop as safely as possible (with cool-down, if relevant); depending on the severity, they may be signs to either lower intensity or seek medical attention before resuming:
Muscle or joint pain that do not dissipate with rest, Chest pain or pressure, Trouble breathing or excessive shortness of breath, Light-headedness, dizziness, or new difficulty balancing, Inability to remain upright.
If care is taken to assure safety, running can be a fun sport with many benefits to your health. If you are serious about becoming competitive, it is advisable you seek professional guidance, either privately or through a dedicated organization.
You might also like...