Jogging Safely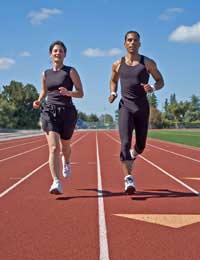 The following is intended to provide general tips for avoiding injury while enjoying the sport of jogging.
Jogging is somewhat unique as a fitness method in that it combines some of the rigors and intensity of running and aerobics but at a much more manageable pace for the average person. The major benefits include increased functioning of the heart and lungs, strength and toning of other muscles - also with aesthetic results - and general endurance. For some, they may feel the secondary effects: increased joint mobility, weight loss, and reduction in stress.
First and foremost, it is generally recommended that you check with your healthcare provider as to your overall physical condition before beginning a semi- or high-intensity exercise program such as this, particularly if you have a medical history.
For those already following a regular exercise regimen, especially if it is aerobic in nature, getting started in a jogging program may be a relatively smooth adjustment. For those for whom physical fitness of this nature may be new, the initial start may be at a slower pace. For all, however, the guidelines below are key to remaining injury-free and maximising the health benefits.
Preparation
A proper diet
is the basis for any fitness program, and the higher intensity, the more influence it has. This essentially means a minimum of three meals per day, with a total intake that includes all basic food groups and meets the needs of your basic body functions and the increased activity.
Hydration is a critical issue much like diet - but it is also affected by temperature, as losses are greater when sweating. The average person requires about 6-8 cups per day of fluids, and jogging may increase this to 12 or more, depending on intensity, duration, and surrounding heat. It is important to keep in mind that such losses include not only water, but also electrolytes such as sodium, potassium, magnesium, and calcium, and these need to be replaced as well. Uncompensated losses can lead to cramping and even disturbances in heart function. Most sports drinks are designed around the principle of restoring fluid and electrolyte balance during exertion.
Key equipment
Clothing appropriate to the weather, layered for easy adjustment in cooler temperatures; absorbent is best, to allow perspiration to evaporate - one of the body's primary cooling mechanisms
Quality running shoes - features to look for include not only general fit, but also cushioning (including shock absorbance), flexibility, stability, sole thickness, and arch support; some of these may be considered "frills" for day-to-day use, but the additional and repetitive stress of jogging makes these particularly critical. Common injuries due to poor footwear include blisters, shinsplints, sprains, and even fractures.
Putting it in Motion
Warm-Up
Stretching - particularly the muscles that will be used during an activity - is key in reducing tightness and increasing range of motion and preventing soreness and actual injury.
A warm-up for jogging should involve muscles of the ankles, calves, thighs, hips, waist, and back.
The extent of stretches should come close to but not exceed personal limits of flexibility
Each stretch should be held for 15-30 seconds
An average duration of 10 minutes overall is generally sufficient, though some may find that outdoor jogging during colder weather requires more for optimal comfort
Moving Forward
Depending on your fitness level, it is generally best to start with an easier program from the beginning. Gradual advancement in duration and intensity are dependent on your goals and comfort level - and of course, freedom from injury.
Heart rate monitoring is recommended during vigorous exercise, and can define the intensity of your activity. It is measured either by an actual monitor, or by taking your pulse for 10 seconds then multiplying by 6. There is a range of rates at which function is most efficient, and it is important not to exceed the upper limit (generally calculated as 220 minus your age).
Proper technique can prevent excessive fatigue, pain - including "shinsplints - or worse injuries such as sprains and even fractures. Foot placement on the jogging surface, and position of arms, shoulders, and knees while in motion are key areas to consider.
Because jogging usually takes place outdoors, personal safety should always be a consideration. Key points here include presence and speed of traffic, aggressive animals or people, terrain (level or bumpy, uphill or flat), or - particularly at night - visibility
Cool-Down
The cool down is a crucial part of the jogging experience, and must not be skipped. Abrupt cessation of vigorous exercise causes pooling of blood and waste products in the legs, resulting in a range of problems from muscle stiffness to cardiac arrest.
A period of approximately five minutes of slower jogging to walking begins the process of normalising blood flow.
A final stretch - similar to that involved in the warm-up - can protect against stiff muscles and enables the heart to return to its normal resting rate.
Keep in mind that sometimes even with the best self-care, some issues require expert counsel. If injuries are recurring and/or not resolvable, seek evaluation and guidance from professionals.
You might also like...