Safe Exercise for the Elderly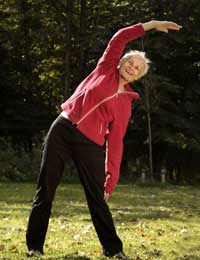 The following is a guide for exercising safely, intended for individuals of advanced age.
What is considered elderly is constantly changing, as more and more people take steps to preserve and even improve their health and activity level over the years. Exercise is one such vital tool that can provide tremendous benefits to both body and soul at any age. However, it is important to ensure it is done properly and does not cause injury. This is particularly relevant in cases where the body faces additional challenges, including those appearing in the later years of life.
For the sake of this article, we will refer to "elderly" as over 65. However, if you are experiencing health disorders generally associated with this age group, the tips included here may help you as well. If you are suffering from any of the following - or have not been physically active for more than a year - it is advisable you obtain approval and recommendations from your physician before beginning a fitness program:
Arthritis
Heart or circulatory disease
Kidney disease
Lung disease
Osteoporosis
Background Tips
Fluids
Physical activity increases basic fluid needs and risk of dehydration, particularly in conditions of heat. It is also important to keep in mind the following as the years progress:
In advanced age, thirst is only a late sign of poor hydration
Aging skin tends to thin, increasing basic fluid loss over and above that due to perspiration
Basic "Equipment"
Comfortable dress appropriate to weather is key to maintaining safe body temperature. Keep in mind that advancing age increases sensitivity to both cold and heat.
Proper footwear appropriate to activity is key to avoiding muscle strains and even bone fractures.
Recommended Activities
An optimal fitness program for the elderly should include exercises that focus on restoring the strength, flexibility, and endurance that tend to be lost with aging or age-related inactivity. It is best started with the guidance of a professional to ensure proper technique and safety.
Exercise against resistance or gravity helps to strengthen muscles; this includes floor exercises, weight training, or water sports such as swimming and "water aerobics".
Most floor exercises are also considered ideal for improving flexibility; some of the better-known formal types include yoga, Feldenkreis, pilates, and calisthenics.
"Aerobic" - also known as "endurance" - exercise requires a minimum of 20 minutes each session, with regular, easy breathing throughout. Walking and swimming or "water aerobics" are considered ideal examples for the elderly, in part because they create less of a burden on joints and tendons compared with higher-impact activities.
Specific Steps
All activities should be done with slow and controlled movements, so as to avoid muscle strain and bone fractures.
Warm-up
Warming up is the process of "loosening" and otherwise preparing your muscles and joints for exercise, and is key to maximizing benefits and preventing soreness and injury. It is recommended to take approximately 5-10 minutes for warm-up before each exercise session, increasing the time during colder weather.
Primary Activity
Start-up
If you were active for most of your life and have simply been sedentary of late without major illness, getting used to an exercise program now may be relatively easy. However, if you have been chronically inactive or limited by a medical condition, it is best to start gradually - in both difficulty and duration.
Build-up
Slowly build up your sessions once or twice per week toward your goal, adding time and intensity with each increase according to your capabilities.
Level-Off
At least 20 minutes per session, a minimum three times per week has been shown to result in increased fitness, and there should not be a push to exceed this if it means overheating, becoming short-of-breath, or feeling pain.
Cool-Down
Abrupt cessation of physical activity can stress the heart. To reduce associated risks, follow each exercise session with a cooling down period of 5-10 minutes, longer in warmer weather.
Primary Precautions
If you become winded, rest and then reduce the intensity of the activity when restarting.
In cases of cardiovascular or lung disease, you may be advised to avoid activities that require you to hold your breath.
Stop if you feel pain and assess if you can safely resume, then reduce the intensity or range.
Avoid exercising when you are acutely ill, including when suffering from a cold or flu.
If exercise is interrupted for more than two weeks, begin again as in the Build-Up above.
Stop exercising and contact your physician if you experience any of the following:

Muscle or joint pain that do not dissipate with rest.
Chest pain or pressure.
Trouble breathing or excessive shortness of breath.
Light-headedness, dizziness, or new difficulty balancing.
You might also like...