Water-Skiing & Wakeboarding Safety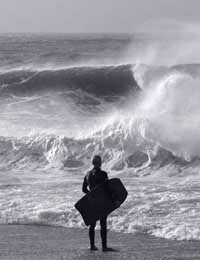 Both waterskiing and wakeboarding are two of the most exhilarating water sports you can get involved with but with certain levels of speed being involved, not forgetting all the other dangers, both visible and concealed, safety is an issue that must be given due attention. Much of the safety advice would apply to both sports as wakeboarding bears many of the same safety considerations as waterskiing given that it is a variation of the latter, although some safety aspects do differ.
Before You Even Get Out On Your Skis Or Board
OK, let's get the first 'golden rule' out of the way first. Skiing and boarding and even driving the boat itself do NOT mix with alcohol. Just like driving, it has to be either one or the other. Do not attempt to go waterskiing or wakeboarding if you've been drinking alcohol.
Know Your Terrain
There may be all kinds of obstacles such as rocks, shallow areas and debris and not all of them might be visible. Some may well be concealed underneath the water's surface so be sure about the area in which you're skiing or boarding before you go ahead. You should avoid popular boating lanes, shallow areas and check for debris. No matter how well you may think you know a particular stretch of water, debris can appear at any time.
Make Sure You Establish Good Hand Signal Communication
As well as the driver, there should also be a spotter or lookout in the boat to keep a watchful eye on the skier or boarder. Both sports require an ability for effective communication between all three elements – driver, spotter and skier - and because of the noise of both the boat's engine as well as the effects of the increased noise of the wind because you are travelling at speed, it's important that between you all, you develop good hand communication skills.
For example, thumbs up from the skier could indicate that it's OK to increase the speed, thumbs down means they want to slow down. The lookout is also necessary for telling the driver to stop if the skier or boarder has come off and crashed into the water.
The Boat Operator
Much of the safety responsibilities of both of these water activities lie with the boat driver themselves. Firstly, he/she should display an orange flag on the boat to warn other nearby boats that he is towing somebody. If a skier should fall off their skis, the boat operator should always approach them from the right hand side so that he always has the skier within his view. By approaching from the left, he could end up hitting the skier with the boat.
If you do get detached from the rope, hold one ski up in the water so that the boat operator can spot you more easily. Skiing should only be carried out in deeper areas of water and away from buoy markers which indicate other people are likely to be swimming in the water. Also keep away from coves where manoeuvring could be tricky and away from other boats.
Wakeboarding
In addition to following much of the safety advice above, wakeboarders also need to think about which foot they're going to put at the front, given that it's just one board, not two skis we are talking about here. Usually, this would be the foot you'd most commonly put forward first anyway or the one you'd normally choose to kick a ball with and remember that as you're getting pulled up out of the water, most of your weight needs to be placed upon your front foot but to shift your weight more to the back foot once you're up and running.
Other safety advice for both sports includes ensuring that you're wearing a life jacket, one that is preferably brightly coloured so you can easily be spotted if you get detached from the boat and that your skis or wakeboard are in good condition and suited to your level of expertise. And, make sure you know your limitations.
You might also like...