Gym Induction: What to Expect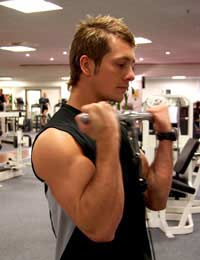 The following serves as a list of general procedures involved when joining a gym.
Gyms and health clubs can be excellent resources for initiating and maintaining physical fitness. People join them with a wide range of goals in mind - from weight control to body sculpting to simple health improvement - and start off with varying physical conditions and levels of exercise experience. Because of this, most gyms require an "induction" period, which serves as a guide for both staff and customer alike to enable safe and effective workouts.
General Overview
Most gym inductions take place over a period of several visits. They include the following:
Medical evaluation
Technical and procedural orientation
Planning interview
Medical Evaluation
Members will most likely be requested to complete a medical questionnaire. In some cases, a report of a formal doctor's evaluation may also be required, and would include results of a general physical examination, laboratory tests, and possibly electrical and imaging tests. In addition, trained staff at the gym will take various key measurements during induction, including the following:
Weight and height (particularly relative to one another)
Blood pressure
Heart rate/pulse
Results may determine whether or not a member will be allowed to join at the time of application. If someone is at specific physical risk, he or she may either be asked to seek treatment and stabilisation before joining the gym, or may be able to join with specific limitations. Conditions posing risk include the following:
Uncontrolled blood pressure
Irregular heart beat
Abnormal shortness of breath
Chronic dizziness
Chest pain on mild exertion
High risk of sudden blood clots (thrombses)
Seizures (epilepsy)
Precautions serve to both protect the health of each member, as well as avoid professional liability for the gym should someone fall ill under staff supervision.
Orientation
Orientations provided by gyms usually include the following three components:
General: Mapping out locations of services, including restrooms, showers, lockers, water, and more as relevant.
Health and safety procedures: Includes how to access medical services - including first aid and resuscitation - locations of fire exists, and building-specific risk-avoidance.
Technical introduction: Instruction of use of the exercise equipment - or other exercise techniques, as relevant - by staff, followed by demonstration by members, who are observed for skill and safety level. If well-organised, the workout involved will begin and end with warm-up and cool-down periods respectively, and the instruction/demonstration phase will be tailored to each member's abilities and goals.
Depending on the gym and the skill of the receiving member, orientation may take 45-60 minutes, and occasionally is conducted all at once. However, members may be asked to try out the equipment for several sessions.
Planning
The planning interview determines what the reasons are for gym membership, what specific goals may be, and how needs therein can best be met with the services available. Such an interview may include the following:
Diet history, knowledge, and habits
Measurements of weight, body mass index, lean body mass, percentage body fat and more, depending on individual conditions
Specific fitness or health management targets, including steps needed to advance
Design of an optimal plan that combines key elements to meet individual goals
By the end of the induction, members should feel familiar with the gym services, confident in use of the training equipment and activities, safe within the walls of the facility - and most of all, on the right track to meeting fitness goals.
You might also like...
Thanks the well-articulated article on gym induction. I find it very refreshing in offering inductions to clients.
Damzy
- 26-Sep-18 @ 2:24 PM
tghjv jtyvj yvjygbhmfrkyi ufyhyikyfi fyigi gyiyiyiyij dc gjtfjtgfj ftgtfgj cjrfyj ty jfv tuj m ftjtfujhgcuj ftugjvujtf
SORINA
- 16-Oct-15 @ 10:11 AM
Found very useful up until the point of reading above had no idea what to expect for induction start off.now I do!
mick
- 1-Apr-12 @ 6:41 PM