Scuba Diving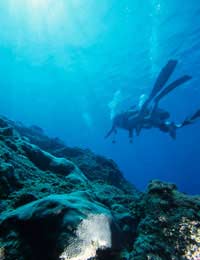 There is nothing more exhilarating than exploring aspects of our universe not part of our daily lives - such as the underwater ecosystem.
The best way to explore life underwater is by scuba diving, which when done by a certified person, has minimal risk. According to Scuba Travel, approximately two million Americans scuba dive annually, out of those divers, about 100 deaths, worldwide, occur each year. "Most of these resulted from medical problems, panic and exhaustion, environmental accidents and equipment failure."
Every sport comes with a list of commonly occurring injuries. For scuba divers, the most prevalent problem they may encounter are middle ear squeezes/ear pain. "The pain is caused by the difference in pressure between the air spaces of your ears, mask and the higher water pressure as you go deeper into the water," according to familydoctor.org. Squeezes affecting the inner ear or sinuses are less common.
Other medical conditions that can occur during a dive, and which are potentially more dangerous, include: inner ear barotraumas, pulmonary barotraumas, arterial gas embolisms and decompression sickness.
Inner ear barotraumas occur if the diver has trouble clearing during a dive, resulting in severe dizziness and hearing loss.
Pulmonary barotraumas are the result of improper breathing during the surface ascent, or sometimes, from diving with a respiratory tract infection. Symptoms include chest pain, shortness of breath and hoarseness.
Arterial gas embolisms are a type of pulmonary barotrauma in which bubbles enter the circulation system and travel to the brain. Symptoms include numbness/tingling of the skin, weakness, paralysis or loss of consciousness.
Decompression sickness (DSC), occurs during the ascent and on the surface of the water. "Inert nitrogen gas, that is dissolved in body tissues and blood, comes out of solution and forms bubbles in the blood," according to familydoctor.org. "The bubbles can occur in various body tissues and block blood vessels. The most common signs of severe decompression sickness are dysfunction of the spinal cord, brain and lungs."
Prior to Diving
Before you begin your scuba diving course, it is advised you get a clean bill of health from your doctor. Once certified, get another check-up, especially if you are a smoker, are overweight, had recent surgery or take medication. Some medications can adversely affect a person during a dive. Make sure you notify your doctor of your plan to scuba dive at the first medical exam.
Obtain your certification from a reputable organization such as Scuba Schools International (SSI) A few hours of instruction at a resort does not constitute certification.
Dive Day
Plan the dive and stick to that plan. Check with local diving clubs about specific dive locations - heed their recommendations and warnings.
Always dive with a certified buddy. Review hand signals, undergo a final equipment check as well as your air sharing drill.
Watch your air supply during each dive and schedule your deepest dive first. "Every dive increases the amount of nitrogen in your body's tissue. Allow time for your body to breathe nitrogen out of your system to prevent decompression sickness," according to the Naval Safety Center. "When you make consecutive dives, account for residual nitrogen still in your body prior to making your next dive."
Study weather reports and monitor the conditions while diving.
Become familiar with your underwater surroundings - learn which fish, coral and other hazards are around and avoid them.
Stay within the non-decompression limits and never attempt a dive you are not comfortable with or certified/qualified to do.
Do not drink alcohol prior to diving.
Dehydration
When we are surrounded by water all the time, it's easy to forget to drink it. However, dehydration can increase the risk of DSC. "When a person is dehydrated, there is a reduced measure of blood in the body, which means less blood flow to the tissues," according to Melissa Rodriguez's Scuba Dive guide. "Consequently, this affects the body's ability to off-gas nitrogen. The increased nitrogen in the body translates into a higher risk of DSC."
Dehydration can also reduce the volume of blood circulating through the body, therefore, the heart has to work harder and pump faster, which leads to decreased endurance and increased fatigue and a diminished diving performance.
Diving with a Cold
Diving with a congested head is not safe, as you will have difficulty clearing your ears and sinuses during descent. "When you can't equalize the pressure in your ears, it's easy to rupture an eardrum or cause other serious injuries," writes Rodriguez. Additionally, injury to the sinus passage's mucus lining can cause bleeding. This can happen on the ascent or descent.
Breathing chilly, dry compressed air causes respiratory irritation and coughing, especially when the cold has parked itself in your lungs. This, in turn, increases your chance of losing your regulator and inhaling water. Additionally, the added stress on your body can lead to an increased chance of a panic attack.
As for diving with a fever, the fever increases your metabolic rate, which causes you to use more air faster, which can lead to a feeling of disorientation.
Dive and Fly
A window of at least 24 hours is required between your last dive and your flight. The reason being that scuba diving exposes the lungs to a high pressure environment, while air travel is a low pressure environment. "The bigger the change in pressure, the greater the risk for arterial gas embolism," according to Diving and Discovering.
You might also like...