Sailboarding and Windsurfing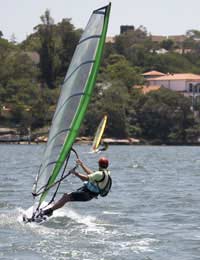 Sailboarding and windsurfing are both exciting water sports that offer the participantsfun and thrills. You don't need to be an exceptional athlete either to enjoy the sport.Windsurfing and sailboarding can be enjoyed by both young and old, no matter what level of ability they have.
Boards for beginners these days, are extremely light (less than 12kg) and can be handled and launched without having to take a bodybuilding course. Lessons for beginners are available and usually take place in the relative safety of a lake or reservoir. New and second-hand boards are available to buy, and you also need a "rig"which is made up of a mast, mast-foot, sail, boom and uphaul rope. Sometimes second-hand equipment will include a whole "rig", but beware as some of these boards may not be as up to date "technology-wise" as a new board.
A beginner should try and look to buy a widestyle board. These boards offer greater stability and manoeuvrability which are huge aids to a beginner. Once you've got your board and "rig" you should now go and learn how to use it properly, by taking lessons. Knowing how to control your sailboard (or even get on it) means you can soon be enjoying the spray in your face as you skim along the water.
Equipment
Apart from your board you'll need:
Wetsuit,
Buoyancy aid (some inland waterways won't let you sail without one).
Boots, which should be rubber surf slippers or neoprene soled.
Gloves are optional, but do offer some protection if sailing in cold weather.
Harness - not really for beginners. Learn to handle your board properly before going on to using a harness or seat harness.
A pair of wrap around sunglasses. No, it's not just to look cool! The glare from the sun when you are on the water is far brighter than you would normally experience on land, so sunglasses are needed to protect your eyes from injury.
Before Sailing You Should
Check your rigging for loose or worn joints and for frayed or worn ropes.
Check the weather forecast.
Tell someone where you are going and when you'll be back.
Sailing and Safety
Beginners should stay in enclosed waters.
You should never sail alone. Choose a beach or venue that is used by windsurfers and sailboarders. Not only is it safer, but you can pick up tips and helpful advice from other sailors.
If warm wear a hat and use sunscreen.
Always wear a buoyancy aid.
Don't sail in areas where there are swimmers.
Never sail in 'No Sailing' or 'No Boating' areas.
Drink plenty of water to avoid dehydration.
Don't sail further from the shore than you need to.
Sail slowly when leaving or returning to shore, this may help stop you running aground.
No matter what happens stay with your board. It's the biggest buoyancy aid you have.
Avoid collisions.
Be aware of the symptoms of hypothermia and leave the water immediately if numbness in the extremities, shivering, poor coordination and disorientation occur.
Be aware of the local weather conditions.
Never sail if storms are expected. Water is a great conductor of electricity and you don't want to be on the water if lightning starts.
This is by no means an extensive list and you should have some training before you venture out onto the water for the first time. Your training will incorporate safety aspects and how to deal with situations you may find yourself in while sailboarding or windsurfing.
You might also like...