Safe Ice Hockey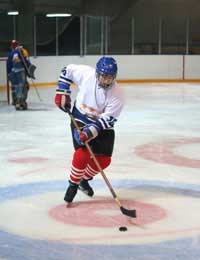 There is nothing like a bone-crushing hit between two hockey players to get the crowd going crazy. For the most part, the players are unaffected by the collision and immediately get up and continue playing. However, due to the collision-based nature of ice hockey, injuries do occur. But by wearing certified equipment, properly, the injury risk can be greatly reduced.
Equipment
All youth, high school and college leagues require players to wear a certified helmet with either a plastic visor, wire cage or a combination of the two. Certifying bodies are the HECC - Hockey Equipment Certification Council, CSA - Canadian Standards Association, or the ASTM - American Society for Testing and Materials. Other required pieces of equipment include a mouth guard; shoulder, knee, elbow and shin pads; as well as gloves.
In terms of glove fit, maximum thumb protection is required as opponents' swinging sticks most often hit thumbs, palms and wrists. The palm needs to be soft enough for the player to feel the stick in his/her hand, while the cuff has to be flexible, but stiff enough, to provide protection. Cuffs that extend too high up the arm, can limit manoeuvrability.
Other pieces of required equipment include pants with built-in protection for the hips, thighs, kidneys and tailbone; and skates. Skate blades should always be kept sharp as a dull blade can catch in the ice and cause knee and leg injuries.
"Penny-pinching is not wise when it comes to buying good protection," according to the Houghston Sports Medicine Foundation. "If you are going to buy used equipment, check it out carefully. Try the equipment on and make sure it fits properly. Injuries occur when loose fitting equipment slides out of the way of an oncoming puck [or person],"
Injuries
The profile of injuries has greatly changed over the years, in part because of changes in equipment, rules and physical conditioning of hockey players.
In the 1970s, most of the injuries were facial lacerations and dental-related. Cervical-spine injuries were rare. Now, facial injuries are low, whereas, cervical-spine injuries occur regularly. Shoulder dislocations, fractures and concussions have also become common fair, according to Hockey Safety and the Medical Community (HSMC).
"Collisions account for most injuries in all of the youth hockey studies," reports HSMC. "Most of these result from body checking."
For children and youth hockey players, injuries ranked third behind basketball and soccer for sports-related emergency room visits.
When are players most at risk for injury? Obviously during a game there is more risk than during a practise, but the injury rate escalated three times during exhibition and pre-season games versus regular and post-season games. It is during the later minutes of each period, as well as the third period, when the most injuries occurred, reports the BC Injury Research and Prevention Unit. Forty two per cent of injuries were sustained during the third period and 47 per cent of the injuries occurred in the last five minutes of each period.
Eye Protection
As the game's physicality has increased, so has the use of helmets - now mandatory, and eye protection - still optional. Most NHLers prefer to take their chances and not wear eye protection, however, that is (very) slowly changing. "In the NHL alone, players not wearing a shield account for 95 per cent of all eye and face injuries requiring treatment," reports the Canada Council for Safety. (CCS)
For example, in the 1974-75 minor league season, 258 eye injuries, including 43 blinded eyes, were reported. During the 1992-93 season, 31 players had eye injuries, with four reports of blindness. During the 2002-03 season, four eye injuries and two blinded eyes were reported, according to the CCS, who attributes the reduction in eye injuries directly to the players wearing visors or cages to protect their face.
Coaches and Officials
Another way to ensure hockey remains safe and fun for its players, is to use only qualified and certified officials. This ensures the rules, which predispose individuals to injury (high sticking, checking, fighting) are enforced.
Use coaches who are certified and qualified to teach players how to avoid injury, but who also does not allow its players to instigate dangerous actions on the ice.
Many U.S. and Canadian hockey leagues currently participate in the Fair Play System, which was designed to improve sportsmanship in youth hockey, while reducing the sport's injury rate.
"By rewarding teams and individual players with low penalties, and punishing those with high penalties, the system decreases penalties, intimidation and violence during hockey games and creates a climate that promotes fun and player development," reports the BC Unit.
You might also like...