Swimming Lessons: A Coach's Perspective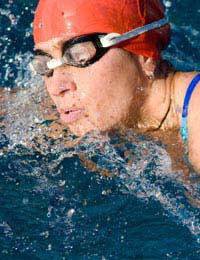 The athleticism and technique of the swimming talent on show at the Commonwealth Games in Delhi represents the elite level of a sport that equally can be enjoyed competitively at national or county level, or simply as a recreational activity that brings together family or friends. Swimming also represents an ideal way to improve cardiovascular fitness and muscle tone.
More importantly, swimming should be viewed as a life skill; one that every individual, young or old, should master because in certain situations it can represent the difference between life and death.
So whether you are an adult desperate to conquer your fear of the water, or a parent eager to see junior learn the basics as quickly as possible, what can you expect when you take the plunge and book lessons? "Getting [pupils] to feel completely confident and at home in the water through the use of games and fun activities, each of which has a specific purpose," says Wendy Dalton, a lead tutor from Devon.
Confidence
Cardiff-based instructor Julia Jarvis also stresses the importance of confidence. "Some children, their inner character is, give it a go. If you say,' blow bubbles or put your face in the water', they'll give it a go, but there are other children [who are more tentative] because of past experience - they've fallen in water or their parents have told them water is dangerous.
"Floating and standing are other things beginners need to learn: how to lie on their backs and stand up properly using both of their legs. Adults, I find a lot, are unsteady on their feet."
Is there a difference in approach between teaching adults and children? "Adults like lots of information whereas children, I only give them small bits of information and build it up," says Jarvis. "Adults, I might tell them the reason why they are doing something - they like the whys and what will happen if they do it. Children, because you are an adult they will listen to what you are saying – teacher-pupil sort of discipline."
Minimum Depths of Water
Safety is crucially important – "It's got to be your number one priority," says Jarvis. So what procedures are in place? Teachers and coaches accredited by the Amateur Swimming Association (ASA), the governing body for the sport in England, follow Pool Safety Operating Procedures as well as a code of ethics. "The ASA have issued guidance documents on every imaginable topic," says Dalton.
"For example there is guidance on minimum depths of water required for jumping in (0.9 metres) and teaching diving (1.8 m); maximum safe teacher-to-pupil ratios and why teachers should teach from the side if they have more than four pupils. All teachers and coaches are CRB [Criminal Records Bureau] checked and have agreed to abide by the code of conduct laid out in the ASA child safeguarding document, 'Wavepower'. "
With so many swimming courses on offer, the choice can often be bewildering, but a rule of thumb is to find one affiliated to the national association. In England, for example, that means choosing an ASA approved centre that follows its National Plan for Teaching Swimming (NPTS). "Talk to the swim co-ordinator and ask what feedback you can expect; will there be written reports at the end of the block?; will you be able to talk to the teacher about your child's progress, or to the co-ordinator?" says Dalton.
Another good indicator of the standard of instruction, says Dalton, is to observe a lesson in progress. "Look at the faces of those being taught. Are they happy, attentive, smiling, do they look confident and relaxed in the water? How much time do they spend actually trying out various skills and strokes and how much is spent at, or on, the side listening and looking at the teacher? Remember, most people will learn by doing. Talk to other parents.
"If you are looking for [lessons for] yourself, ask the adult swimmers and get their opinions on the quality of the teaching at that club. If it is a swimming club you are visiting, then look for the poster acclaiming that they have their [ASA] swim21 accreditation. This is the sign of a quality club that is always striving to improve even further."
Comprehensive information on all aspects of the sport can be found at the ASA's swimming.org site. The association has also underlined its commitment to coaching development with the launch of a new web-based education and training initiative through the Institute of Swimming.
You might also like...