Basic Fishing Safety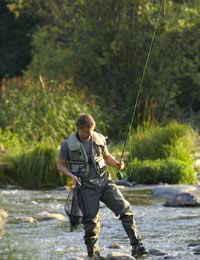 There are few more ancient pursuits than fishing. Originally purely a form of hunting for food, it has involved into a sport that can be highly competitive or, at the other end of the scale, one of the most relaxing ways to feel at one with nature.Sea fishermen will happily sit at a quayside hostelry and tell the interested tourist that at times nature can get up a little too close and personal. The water may be gently lapping the harbourside on a still summer's day, but that same water several miles out from shore can turn very nasty in doublequick time as the clouds angrily darken and the wind picks up.
Whether an experienced sea fisherman or woman, or an inquisitive tourist on their first time on a boat, it is always important to take the correct safety gear on a trip. Life jackets, for example, may not be the most flattering of attire, but their sartorial inelegance is far outweighed by their ability to prove a lifesaver.
The important thing to remember is respect: that means respect for the fish, for the elements, but most importantly respect for the captain on whose charter the group is sailing. At all times, listen to the advice of both the captain and crew, and never think that your knowledge outweighs their years of experience when it comes to decision making.
Tied up at the Quayside
Sea fishing should be a pleasurable activity, and there is nothing wrong with packing a hearty lunch basket, but it is always a good idea to leave any alcoholic drinks until the vessel is safely tied up at the quayside at the end of the day. It may seem a pleasurable idea to enjoy a couple of beers or a glass of wine at sea, but such consumption can effect decision making, and on occasions cause individuals to indulge in behaviour that can not just be irritating to fellow charter members but downright dangerous.
Anglers, too, should not complacent when it comes to safety. The riverbank may seem the last place where anything could go wrong, but the tranquillity can be deceiving. There may not be the dangers of high winds and waves faced by sea fishermen, but the weather can still be a factor, so ensure that a layer of warm clothing and waterproofs forms part of the contents of the kit bag, just in case that forecast of sunshine turns out to be way off the mark.
Treacherous Stretch of Bank
Footwear that offers a good grip is another essential in order to minimise the chances of being caught out by a treacherous stretch of bank that could lead to an undignified soaking. And talking of a soaking, be sure that when wading there are other anglers near by who can lend assistance should the river bottom hold any nasty surprises. Again, an accident is more than likely to lead to nothing more than an undignified ducking, but water should always be respected.
Have respect, too, for walkers taking in the sights and sounds of the river. Ensure that your tackle box does not obstruct their right of way, or is located in a position where they may not be able to see it in time to avoid tripping up. Similarly, when casting, look left, right and behind you.
Always take your mobile with you, checking to ensure your network provider offers good coverage in the area concerned, and be sure to inform someone where you are going and when you expect to return, especially if you are fishing on a river you haven't previously visited.So use commonsense at all times, to ensure your fisherman's blues is restricted to the occasional experience of an empty keepnet.
You might also like...
Whilst riverbank fishing is usually perfectly safe, there's the possibility of slipping when standing to haul in or net a fish, so be careful. And if you're using waders in a river, you need to be extremely careful and test underfoot before you shift position, rather than suddenly find no rock or surface there. Waders can fill quickly and drag you down.
Kurt
- 27-Sep-12 @ 1:16 PM