Basic Safety Rules When Surfing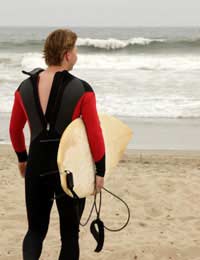 The growing popularity of surfing has seen a large number of people pick up a board and try to ride the waves for the first time. For many surfing can be fun, but for other's who aren't prepared, or who don't follow basic safety rules, surfing can leave them with a sinking feeling.
For people venturing into the breakers for the first time, potential dangers lie in wait at every turn. Crowds, rip currents and cold waters can be a deadly combination for the novice surfer or body-boarder. But with some tuition, some basic safety know-how and a lot of common sense, surfing can be a thrilling experience and your time in the ocean can be relatively safe if you follow a few basic rules.
Equipment
Board
- If you're a beginner, generally speaking the longer a board the better. A board about 1-2 ft taller than your height is an average guide. A longer, thicker board makes for easier paddling and provides more flotation. Beginners should look at buying a wide style board as it gives the learner a more stable platform.
Wetsuit - A good wetsuit is vital in a lot of countries where the water temperature means surfing without one would be impossible. You wouldn't be able to get into the water, or be able to stay there for any length of time without a wetsuit.
When buying a wetsuit it needs to fit snugly without being too tight, or too loose. If it's too loose water can seep in at the neck and you will soon become very cold.
Rash Vest - This is worn under the wetsuit to prevent irritation of the skin, (especially under the arms) when paddling. They can be bought with a thermal lining which provides another layer of insulation when surfing in chilly temperatures. They can also be used in semi tropical regions where the temperature is warm enough to dispense with a wetsuit. Wearing a rash vest in tropical conditions can help prevent sunburn.
Other items you will need are;
Boots
Gloves
Hood
Surf Wax/Traction pad
Leash/ Leg rope.
There are some other factors to take into consideration before going surfing;
Fitness
You need to be pretty fit to surf, so entering into a fitness regime that's designed to give an all round cardiovascular workout is advised before getting into the water. Warm up and stretching exercises before going surfing is also recommended.
Swimming Ability
Most experienced surfers are competent swimmers. With adverse currents and tides you could find yourself a couple of hundred metres from shore in big surf.
Would you be able to swim back to shore?
You should have the ability to swim comfortably for at least 500m.
If you lost your board would you be able to swim to shore and retrieve it?
You should know your limitations it could be the difference between life and death.
Here are some other tips to help make your surfing experience safer:
If you're a beginner consider getting some training from an approved instructor, or join a surf school.
Never surf alone. Always go with a friend or where there are other surfers.
Always warm up before going out.
Check the sea conditions including weather and tides.
Consider taking out third party insurance. Some beaches won't let you surf if you are not insured.
Always wear the correct clothing.
Only surf within your own ability.
Avoid other surfers who are taking waves when you are paddling out.
Make sure your board has a suitable leash.
Before going out find a suitable place to enter the water. Ask the local lifeguard or other surfers if you are unsure.
Always be considerate of other water users.
During summer use sunblock to protect yourself from the sun.
Don't eat for at least an hour before going surfing,this will reduce the likelihood of cramps.
If you are surfing in a tidal area, read the tide timetable before going out. This can save you from becoming cut off from the shore.
Take notice of warning flags on beaches. If a red flag is flying don't enter the water.
Never dive off your board. The water may not be as deep as you think.
If you get into difficulties don't panic. Always stay with your board and raise your hand and shout for help.
Follow this advice to avoid that sinking feeling!
You might also like...