High Repetition, Low Intensity Method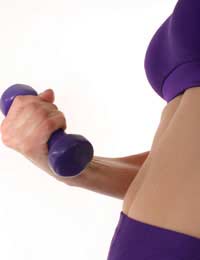 The following describes the general principles of a common style of exercise for muscle toning.
Training to increase lean muscle mass and endurance involves exercises that cause muscle to work against gravity or a greater opposing force, known as resistance. One of the systems growing in popularity is the high-repetition/low-intensity method. It is based on the principle that for muscle to be developed, resistance exercise must be sustained.
Who, What, Why of the Workout…
The high-repetition/low-intensity method is usually favoured among those seeking weight loss and/or firming of body tone. In contrast, the high-intensity/low-repetition method has traditionally been applied to bodybuilding. Of note, an increasing number of bodybuilders are discovering the benefits of the former in supplementing and enhancing their basic training programs.
A repetition is a complete movement of an exercise that generates successive voluntary muscle contractions. Several repetitions make up a "set," and several sets comprise a session. Repetitions and sets are the general format of most exercise programs. Between sets and workout sessions are rest intervals, which enable the body to recover and gather sufficient strength for the next exertion.
Intensity is generally thought of as the amount of power exerted per unit of time in a workout. It is also related to impact, and the terms high-intensity and high-impact often go hand-in-hand. Because of the reduced level of jarring to the body, low-impact or low-intensity exercises are usually thought of as the safest routes to fitness. As a result, the high-repetition/low-intensity method enables effective workouts for people who cannot tolerate high-intensity physical activity.
In considering these two aspects of a workout, raising one generally decreases the other, according to the body's capabilities. For most non-competitive exercisers, maximizing repetitions means controlling the intensity, beginning lightly and proceeding to an optimal combination. Progressive exercise is based on the principle that as endurance increases, so too must the intensity, in order challenge the muscles and ensure endurance gains. There is a limit, of course, and it can be very individual when training becomes over-training and too exhausting to be beneficial.
…& How
Many types of exercise can be adjusted to be low- or high-intensity depending on the level of exertion, and some are by definition one or the other. In adjustable-intensity exercises, the difference is made in the speed of a repetition or by the difficulty of the terrain (as in cross-country versus uphill cycling). Examples of all include the following:
>

Adjustable
Intensity

>

High
Intensity

Yoga

>

Calisthenics

>

Traditional aerobics

Walking

>

Jogging

>

Running

Waterobics

>

Lap-swimming

>

Sprint-swimming

Pilates

>

Weight training

>

Powerlifting

Cycling 10 mph, flat

>

Cycling 24+ mph or at 15º

>

Cycling 25+ mph or at 45º

Rowing 6 mph, calm water

>

Rowing 9+ mph or in rapids

>

Rowing 12+ mph or white-water
To maximize muscle growth via low intensity, repetitions should be controlled and smooth, and done at a slow rhythm.
Intensity
In motion-related activities - such as aerobics or cycling - this physically refers to heart rate. Low-intensity generally means about 50% of the maximum.
In strength-training - weightlifting or use of machines - low-intensity means the weight is equivalent to about 50-75% of the lifter's maximum capacity.
Repetitions
In motion exercises, sets generally relate to time; beginners should start with 10-20 minute sessions, increasing to a goal of 45-60 minutes.
In floor exercises and weightlifting, beginning sets are recommended to be about 6-8 repetitions of each exercise, and goal sets are generally about 30 repetitions; sessions generally begin at 2-4 sets each, and a minimum targeted goal is recommended to be 15-20.
Intervals
Training should be performed at least four times weekly, preferably with at least 12 hours in-between; such a rest interval minimizes injury and optimizes outcomes.
Oxygen is an indispensable player in the high-repetition/low-intensity method. It is vital to the sustained energy involved in multiple repetitions, and necessary for the proper use of fat for energy - a process commonly referred to as "fat-burning." Therefore, appropriate breathing is essential. General rules are as follows:
Exhale on the pushing or exertion phase of each repetition
Inhale on the releasing or relaxation phase of each repetition
To avoid hyperventilating, ensure the rhythm of each exercise is methodical and slow
If shortness of breath occurs, slow down